In exactly one year this week — on Nov. 5, 2024 — Americans will vote for their next president. Joe Biden and Donald Trump are likely to face each other again.
Both candidates have flaws but so far have batted away all contenders from within their own parties.
Biden, who turns 81 in a few days, has the majority of both Democrats and Republicans believing he's too old for a second term.
Nonetheless, no serious Democratic challenger has emerged. Unless Biden withdraws, he can be assured of the Democratic nomination, notwithstanding the unenthusiastic support from many in his party. Kamala Harris will return as his running mate.
Trump, 77, has kept Republican rivals at bay. Florida Gov. Ron DeSantis was thought to be a serious threat to Trump but has faltered badly.
The most recent polls of Iowa Republican caucus-goers show DeSantis now tied for a distant second place with Nikki Haley, former governor of South Carolina.
Four indictments? No problem
Trump towers over DeSantis and Haley in every poll. His legal troubles have not dented his support among Republican voters.
If Trump is the Republican nominee, former vice-president Mike Pence won't return as his running mate. Pence has ended his own uninspiring run for the presidency.
There has been no love lost between the two men since the turbulent end of Trump's presidency. Trump will have the opportunity to select someone new, making the Republican ticket in 2024 different from that in 2016 and 2020.
Although vice-presidential nominees typically do not swing elections, John McCain's disastrous decision to select Alaska's governor, Sarah Palin, as his vice-presidential candidate in the 2008 presidential campaign serves a warning that a poor choice does harm a campaign.
Palin was ill-prepared and a polarizing presence that detracted from McCain's message and campaign.
In a Trump-Biden rematch, vice-presidential nominees may matter more than usual. The advanced age of Biden — who would be 82 at the start of his second term, while Trump would be 78 — means that there is higher than normal likelihood of the vice-president assuming the presidential office.
What to watch for
Rematches in presidential elections are rare. The most recent was in the 1950s, when Dwight D. Eisenhower faced Adlai Stevenson in two consecutive elections.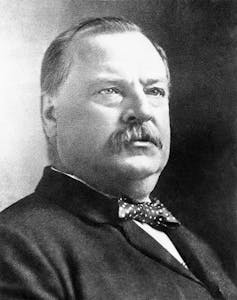 Democrat Grover Cleveland stands alone in American history as the only president to serve non-consecutive terms — the exclusive club that Trump hopes to join. Just like Trump, Cleveland served one term and was defeated by Benjamin Harrison, but returned to power by soundly defeating Harrison four years later.
Biden's campaign will undoubtedly be carefully stage-managed to limit his travels and public engagements. He will likely rely on others — Harris and other Democratic party politicians — for the hard slogging. His campaign will have a "Team Biden" approach in an effort to convince voters he has a capable — and younger — team behind him.
---


Read more:
70-plus seems the new 50 for male politicians, but they're threatening the world order


---
Trump, on the other hand, will aim to keep up hectic travel to swing states if only to differentiate himself from Biden. Not unsurprisingly, Trump's campaign will be less about the Republican party and his team and far more about him.
Biden's unprecedented attendance at United Auto Workers' strike rally in Michigan in September points to upcoming battlegrounds that will help decide the 2024 election.
Given the nature of American elections, some states routinely vote Republican, and others Democrat. New York, for example, has been a Democratic state for the past nine presidential elections.
However, Pennsylvania, Wisconsin, Michigan, North Carolina, Arizona and Georgia swing back and forth. These are the states that must be won for a candidate to be elected president. Trump won all six in 2016 but lost in five in 2020.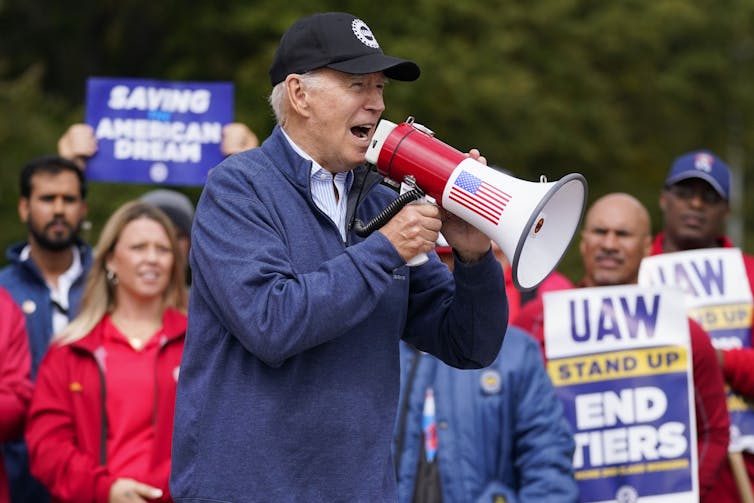 Looking back at Nixon vs. Kennedy
Presidential elections are influenced, and in some cases even decided, by the personal appearances and day-to-day activities of the candidate. For both Trump and Biden, the 1960 presidential debate is instructive.
Richard Nixon came to the debate with a lack of makeup, a five o'clock shadow, grey suit and directed his comments at the studio audience rather than the TV camera.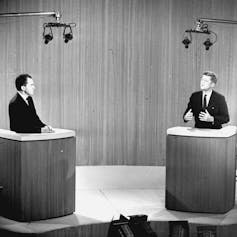 In contrast, John F. Kennedy was tanned, blue suited and spoke directly to the camera. Those who watched the debate on television declared Kennedy the winner, while those who listened on the radio concluded that Nixon's performance was superior.
For Biden in particular, but also Trump, a stumble while climbing stairs, a momentary loss of memory or citing incorrect facts during a speech will be mercilessly exploited by the opponent.
In an environment were cameras are everywhere and social media is the major tool used to reach voters, both Biden's and Trump's campaigns will be tightly scripted and rely as much as possible on pre-recorded video.
Whatever else the 2024 election campaign will hold, a Biden-Trump rematch offers American voters two contenders they know intimately. Like all sequels, that's both good and bad news.