Last Friday, Israeli newspapers were filled with stories about the 50th anniversary of the Yom Kippur War, also called the October War. In 1973, the country had nearly been defeated by co-ordinated surprise attacks from its Arab neighbors. Never again, people thought.
So, Israelis were especially shocked to be awakened Saturday morning by rocket barrages and gunfire in the streets. Hamas militants from Gaza had launched a smaller but equally co-ordinated surprise attack. It came by land, air and sea.
The fighting began around 6:30 that morning, when Hamas started firing rockets. But unlike many previous conflicts, this time it also attacked on the ground.
---


Read more:
Gaza's enhanced rocket technology challenges Israel's defences


---
Gunfights and airstrikes
While the rocketry was still underway, Hamas blasted numerous holes in the security fences between Israel and Gaza. That let hundreds of armed militants pour across the border and quickly spread out across southern Israel.
These forces were small by military standards, but quickly overwhelmed the local border guards and police forces. The militants overran an army base, captured a police station and attacked several dozen communities.
The results were bloody. By Sunday, Israel had reported more than 700 deaths and 2,200 injuries, mostly civilians. Another 100 people were taken back to Gaza as hostages. Some of the victims were reportedly citizens of other countries, including Germany, Thailand, Canada and the United States.
Israel's army seemed largely absent from these initial fights. But its air force started bombing Gaza within hours, in Operation "Swords of Iron." A day after the conflict started, the Palestinians reported 370 deaths and thousands of injuries from the airstrikes.
The bloody ground attacks shocked Israel. But there were also surprises overhead.
Massed rockets
Militants in Gaza have been firing rockets toward Israel every year since 2005. I've researched rocket defenses and missile combat for years, but the intensity of the Hamas attack this time was astounding. Israel counted more than 2,200 incoming rockets on Saturday morning alone; the total exceeded 2,500 by the day's end.
That's nearly quadruple the previous single-day record of 670 rockets. That was the number fired during the most intense day of 2021's Guardian of the Walls operation.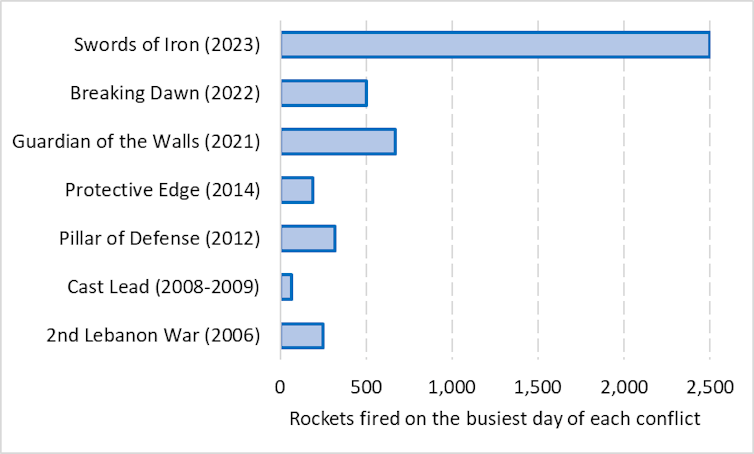 The barrage wasn't restricted to border areas. It reached across southern and central Israel, including the suburbs of Tel Aviv. A hospital and several other buildings were hit. And about a dozen people died, including several at a Bedouin village that had no defences.
The toll was relatively low partly because the rockets are inaccurate: most land in empty fields. And Iron Dome interceptor systems typically shoot down most of the rest. Failing that, many homes and communities have bomb shelters where civilians can take cover.
Because the Iron Dome systems are so effective, they would be valuable for Hamas to destroy. But rockets are too inaccurate to hit such small targets.
However, if the militants roaming southern Israel on Saturday had found a system deployed there, they could easily have destroyed it. For example, there is often a system stationed near Sderot, one of the towns that was attacked.
There is another way to destroy small, high value targets: attack them with drones.
Drones in Israel and Ukraine
This seems to be the first conflict where Hamas has successfully used armed drones. Some are quadcopters that operators fly via remote control. They can precisely drop explosives onto small targets — like an Iron Dome system. Videos online show them attacking people, a watchtower and a tank.
Ukraine has effectively used similar quadcopters against Russian military targets. They sometimes drop explosives right down an armoured vehicle's open hatch.
Other Gazan drones resemble toy airplanes. They can fly considerable distances and then explode wherever they land.
Those drones are much like the ones Russia uses to attack Ukrainian cities. And both the Gazan and Russian drones resemble those made by Iran. That might not be co-incidental. Iran is known to have supported Gaza militants in the past. And it has admitted selling some drones to Russia.
There's another interesting connection between the Ukrainian and Israeli conflicts. Israel has provided humanitarian aid to Ukraine, but no weapons. Most notably, it has refused Ukraine's repeated requests for an Iron Dome system.
Hamas also sent several dozen militants across the border on powered hang-gliders. Their lightweight construction apparently let them avoid radar detection.
Widening conflict?
On Sunday, the Israeli army gradually regained control of most of its territory, while the air force kept bombing Gaza. Meanwhile, the rocket fire from Gaza slowed to a trickle.
However, a different rocket threat also appeared. Hezbollah militants in Lebanon fired several missiles or shells at an Israeli military post in the Golan Heights, on Israel's northern border. It seemed to be a warning: if Israel retaliated against Gaza, Hezbollah might fire thousands of rockets and missiles into northern Israel.
But the Israeli government, not surprisingly, seems intent on retaliation. It officially declared war and called up its military reserves. A massive invasion of Gaza seems imminent.
So, while civilians in both Israel and Gaza are already mourning the deaths of hundreds, there is likely more bloodshed to come.