Donald Trump faces three separate indictments — over 70 criminal and felony counts — with additional charges likely to come in the days ahead.
But more stunning than the unprecedented legal cases against the former president is that Trump stands a solid chance of being re-elected president of the United States in 2024.
In most democracies, someone facing serious legal proceedings would not be able to run for office due to constitutional barriers or the inability to be nominated by a political party. Although ex-leaders in other nations are investigated, prosecuted and sometimes even jailed, they very rarely return to power.
What accounts for Trump's continuing appeal to many American voters?
American exceptionalism
American presidents have always been seen to be exceptional individuals. The myths around U.S. presidents are large and grow over time.
George Washington's bravery and leadership ensuring victory during the War of Independence. Abraham Lincoln's honesty and idealism prevailing during the Civil War. Franklin D. Roosevelt's vision and determination defeating both the Great Depression in the 1930s and the Axis powers during the Second World War.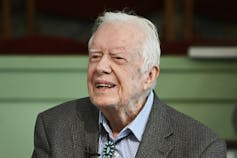 Even for a presidency deemed less than successful, post-White House actions — as demonstrated by Jimmy Carter's human rights activism — can redeem a legacy and elevate the former president to near mythic status.
Being a typical or average politician running for president will not entice political donors, supporters and voters. Instead, Americans like to believe their presidential candidates have fought their way to the party's nomination and to election day.
Each president has his own myth, such as rising from poverty, remaining calm under even the most dire circumstances, staring down American enemies abroad or using their status after the end of their years in the White House for the benefit of humanity.
Amid his legal battles, Trump is capitalizing on the desire of some Americans to regard their leaders as larger than life. In the U.S., the president is both head of state and head of government. That isn't the case in many countries, and it results in far less pressure for one person to embody an entire nation and its people.
In the Trump mythology, the criminal charges are but the arrows of his political enemies, the civil charges but the jabs of the jealous. For Americans — with more lawyers per capita than any other nation — being charged with a crime is not as uncommon as it is elsewhere. An estimated 70 million Americans have a criminal record.
Trump never backs down
Trump battles on. He never gives in. He always denies wrongdoing. He is ever ready to delay and appeal. He's always looking for the next legal and political battle. He's ever vigilant of public perception, and he makes sure to pander to his base of supporters.
His aim to return to the presidency is the American dream. Every child is taught that no matter what his or her circumstances, attaining the highest office in the land is within grasp.
Trump lost after only one term, sought to remain in office, is accused of inciting a riot to stay in power and then held onto classified documents, among other alleged and actual misdeeds. In the face of so much adversity — even though it's largely of his own making — Trump's return to the political arena represents the epitome of the American dream for some.
After all, that dream is one of equal opportunity for all so that everyone can attain their highest goals. From this viewpoint, Trump's legal woes are simply obstacles that need to be overcome to reach the final goal.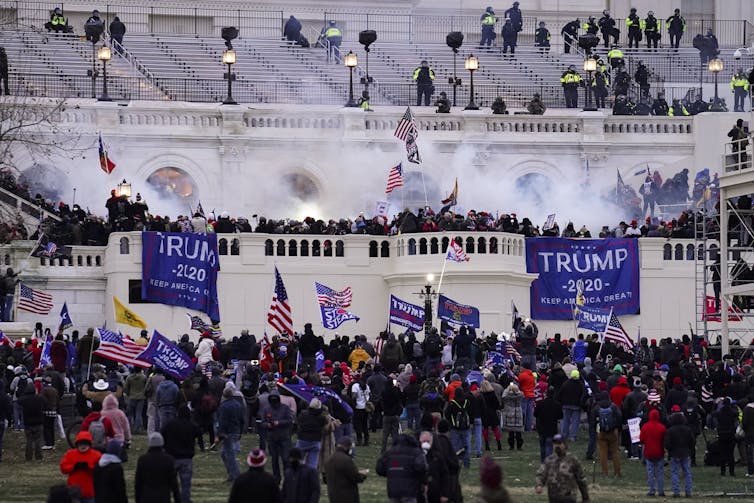 Trump's stature is enhanced
Trump portrays himself as a man who, through grit and good old American "never-say-die" determination, is following his dream. Being the only former president to be indicted just adds to the magnitude of the hurdles he must clear — and enhances his stature among supporters.
Nothing in the American constitution or federal laws prevents Trump from seeking the presidency or serving if elected.
Because the Republican-controlled U.S. Senate acquitted Trump of inciting the Jan. 6 Capitol Hill insurrection, he meets all remaining constitutional criteria: he's at least 35 years old, he's a natural-born citizen and he's lived in the U.S. for at least 14 years.
There is a long list of American politicians, most recently Joe Biden, who have faced defeat throughout the course of their careers only to win substantially years later. Second and third chances are common in presidential campaigns.
Biden sought the Democratic nomination three times. Ronald Reagan lost his first run at the Republican nomination. Richard Nixon lost his first election for president but prevailed eight years later.
It's the electorate, not the courts, that will decide Trump's fate in the fall of 2024. Many voters appear willing to give Trump a second chance, regardless of his legal travails.