A recent open letter signed by 61 Canadian retired security professionals called on Canada to meet its commitment to NATO's goal of two per cent of GDP in defence spending. It was quickly followed by a Washington Post revelation that Canada will never meet that target.
The ongoing Discord security leak of classified files includes this admission by Prime Minister Justin Trudeau to NATO officials.
It illustrates the slow-motion crisis in Canada's defence and security policy. Canada has long sought to paper over its failure to meet NATO's targets through the excellence of its military personnel and a series of operational commitments over the years, where it has often assumed significant leadership roles.
These initiatives have hidden the internal organizational rot of aging equipment and shrinking readiness for military conflict.
Demands for Canada to step up
The Washington Post revelations have resulted in calls for Canada to step up its spending and meet the goals it agreed to in 2006 and again in 2014.
It doesn't matter that the goal of spending two per cent of GDP is an artificial standard that makes no sense from a defence capability perspective — and is cynically manipulated by all players in terms of what gets counted. NATO agreed on it as a baseline, Canada made commitments to meet it and our allies are watching.
Still, as important as money is for the overall health of the Canadian Armed Forces (CAF), it's not the real problem affecting defence in this country. Rather, it's a combination of factors revolving around the issue of culture.
1. Culture concerns
The CAF is currently understaffed by about 16,000 personnel out of a total of 101,500 authorized positions.
Many of those missing personnel are at the middle-management level. There's been a massive exodus of talent following years of poor leadership and management, with back-to-back heavy operational deployments and constant family disruption — all in an environment where average Canadians have little idea or concern about the sacrifices service members make.
---


Read more:
Why Canadians pay little attention to their military


---
The often harsh demands of military life on top of the revelations of sexual misconduct have dissuaded many young Canadians from enlisting.
Personnel shortages have also reduced the number of staff available to manage ongoing programs, meaning that despite the increases to defence spending made recently, billions go unspent.
2. No strategic thinking
The public service is also part of the problem, lacking the experience to understand the interaction between war and diplomacy.
Few officials outside of the Department of National Defence (DND) understand the issues of war, nor are there many opportunities for them to gain such knowledge. Given the need to move between multiple departments for career advancement, even some within the DND lack a broad perspective on this.
Canadian Forces College, where I am a professor of defence studies, typically educates 10 senior government officials in its national security program each year, but none are subsequently "career managed" by the public service.
That means that when they return to their jobs, their responsibilities often have little to do with the education they've just received.
3. Complacent Canadians
But perhaps the greatest threat to Canada's defence is Canadians themselves. Canadians have long been assured by our geographical expanse and remoteness that there are few military threats facing the country.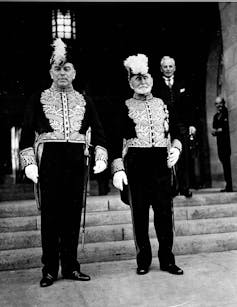 Sen. Raoul Dandurand expressed this best when he noted in 1924 that "Canada is a fireproof house, far removed from inflammable materials."
Even as far back as 1875, one politician noted "…situated as we are, not likely to be involved in war, and having a large demand upon our resources for public improvements, it was highly desirable to have our military affairs conducted as cheaply as possible."
Canadian attitudes towards defence have long historical legs firmly situated in the geopolitical realities of a continent dominated by only three friendly states — one of which is a superpower — endowed with rich natural resources and separated from the rest of the globe by three enormous oceans.
Canadian politicians take their cues from a public that remains more concerned about domestic issues of inflation, health care and education than defence.
These three issues, however, will not be solved by greater amounts of defence spending.
A non-issue for Canadians
Indeed, Canadian complacency assures that the prime minister's admission to our allies won't haunt him in any real domestic sense beyond a couple of bad news days. Nor is it likely to be an election issue.
And should the Conservatives succeed this government, they likely won't do anything different — there is simply no domestic political reward for solving these problems.
There are enormous international political risks, however, for Canada to continue on this course. Its "brand" among its closest allies is taking significant hits.
While United States President Joe Biden's administration is far more diplomatic than its predecessor on this matter, it's evident that the U.S. no longer feels Canada is serious about its international roles and commitments and has begun the process of sidelining us.
---


Read more:
Canada's exclusion from the AUKUS security pact reveals a failing national defence policy


---
This was spectacularly evident in the omission to discuss the trilateral AUKUS deal with Canada prior to its signing by the U.S., the U.K. and Australia. As international tensions increase, alienating those we need to work with is a poor strategy for success.
Canadians were shocked by how fragile their health-care system was under the stresses of the COVID-19 pandemic. But our military is under similar stresses and we cannot simply assume it will be ready for the challenges of the emerging international environment.
Canada's under-investment in its security is excused by strong cultural issues that can't be easily wished away. Sadly, only a major disaster can teach critical lessons about failing to address this problem.