Just days after 16-year-old Gabriel Magalhaes was fatally attacked at a Toronto subway station, his mother had an urgent message to public officials on how to address the spate of violent crime on the Toronto Transit Commission over the past year.
Andrea Magalhaes, a nurse, urged them to stop thinking the crisis can be solved by adding more police officers, locking more people up and solely blaming the individual.
She was resolute in her assessments of what government should do instead: tackle the root causes of crime by improving the social determinants of health, which the World Health Organization defines as "the conditions in which people are born, grow, live, work, and age" and the "fundamental drivers of these conditions."
Strengthening the social safety net
As a criminologist and a former service provider for a court-based victim assistance program, I was struck by Magalhaes's plea for change because of its emphasis on expanding the social safety net — not the criminal justice system — to achieve both public safety and justice for victims.
Her perspective is at odds with the advocacy for retribution and "law-and-order" approaches typically expressed in campaigns for victims' rights, which gained ground throughout North America in the 1970s and 1980s.
Research into the impact of victim's rights movements on crime policy reveal that government officials eagerly embraced these demands because they fit the "tough on crime" approaches popularized by conservatives at the time.
Examining the movement in the United States, American political scientist Marie Gottschalk identified victims' rights movements as one of several key forces that drove mass incarceration in that country in the late 20th century.
In Canada, victims' rights movements emerged in the early 1980s with similar concerns that the criminal justice system was soft on crime and too protective of the "rights of criminals."
While the effects of their advocacy in Canada were more tempered than in the U.S., the federal government granted serious consideration to the movement's tough-on-crime demands.
Illuminated against this backdrop, Magalhaes's message to government officials is remarkable. Unfortunately, they don't appear to be listening.
More police is a short-term fix
In the days following Gabriel's death, Ontario Premier Doug Ford used the tragedy to call for more police officers assigned to the TTC and tougher bail reform laws.
As legal experts note, neither of these approaches offers much beyond overly simplistic, short-term fixes and could potentially make society more dangerous.
---


Read more:
Race is closely tied to who gets bail — that's why we must tread carefully on bail reform


---
In addition, increasing police presence on public transit offers no guarantee that similar tragedies will not happen again.
In New York City, where hundreds of officers now patrol the subway following spikes in violent crime, the presence of multiple police officers in both the station and on the tracks still couldn't prevent the 2022 fatal attack on a woman who was pushed into the path of an oncoming train.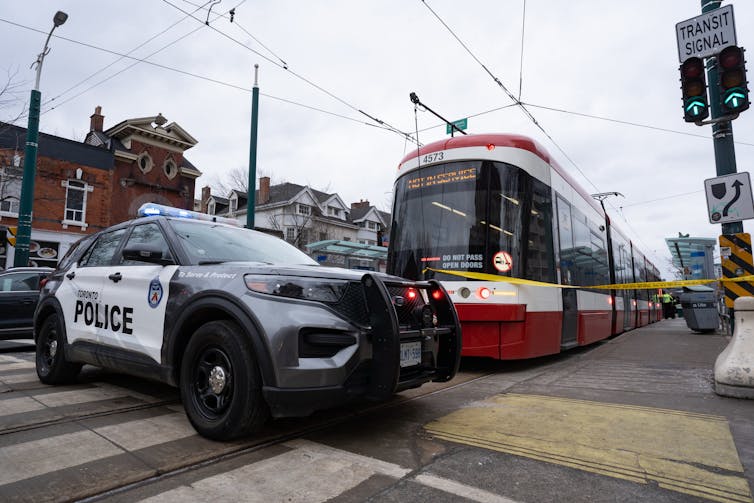 Magalhaes's call for enhancing the social safety net raises two important questions:
Social services need funding
Scant details about the man charged with killing Gabriel illuminate the urgent need for services that address substance abuse, homelessness and mental health, as well as significant investments in re-entry supports for those who have committed crimes.
The need for increased funding of social services is widely known.
In Ontario, the provincial government promised additional money in its 2023 budget to community organizations that deliver supportive housing. But it remains to be seen if those funds will make much difference after decades of chronic underfunding.
My research team and I are currently studying domestic violence shelters and grassroots organizations in Ontario that provide counselling for people accused of domestic abuse. Our ongoing research shows how profoundly these organizations and the work they perform are undervalued by governments.
As one of our research participants told us, workers in this sector typically earn on average an annual salary of $38,000, do not receive adequate benefits or employer pensions and can often go many years without a wage increase due to deficiencies in government funding.
Addressing the root causes
Expanding the social safety net to address the root causes of crime therefore requires recognizing the vital contributions these organizations make to public safety — and providing them with stable funding to carry out their responsibilities.
The vast disparities in government funding between police services and non-police organizations that work directly with people struggling with mental health, chemical dependencies and homelessness indicates that far more must be done to make this happen.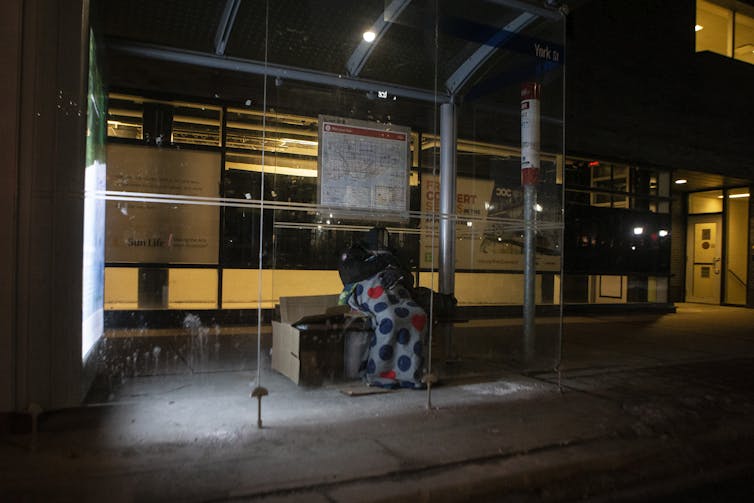 Finally, it's not just basic financial support for social services agencies that's urgently required.
As experts at the Centre for Addiction and Mental Health argue, a universal basic income could offer dramatic solutions to the conditions that cause crime.
Hopefully, politicians will start to listen — and a grieving mother's wise words will not be in vain.