The polarizing debates in Canada over issues of gender and sexuality recently led to heated demonstrations and counter-demonstrations in cities across the country.
The One Million March 4 Children coalition that was behind the protests has its sights aimed at a range of issues related to sexual education in schools, including the teaching of gender theory. The coalition includes truckers' organizations and members of the radical right as well as religious organizations.
Since the demonstrations were mainly driven by different conservative movements, it was not surprising to note the presence of Christian groups at the rallies. But the strong presence of immigrant communities, particularly Muslims, came as a surprise to many. During that week, both a Muslim association and a conservative nationalist Québec columnist, Mathieu Bock-Côté, each from opposite ideological spectrums, denounced Prime Minister Justin Trudeau's call for a tolerant attitude in almost identical terms.
Libertarian fiscal policies and highly conservative social policies have wind in their sails at the moment, and there's no reason why they shouldn't appeal to religious groups among different minority groups in Canada.
While Maxime Bernier's People's Party of Canada (PPC) has made gender issues its hobbyhorse, Pierre Poilievre's Conservative Party of Canada (CPC) has been more cautious about jumping into the fray and has asked his MPs to exercise restraint. Yet his party could benefit from the polarization that the gender question is creating. Three elements seem to point in this direction.
Firstly, the CPC largely holds the evangelical Christian vote on moral values and could bolster the mobilization of this part of its base. Secondly, unlike many European populist right-wing parties, when it comes to anti-immigration rhetoric the CPC doesn't have much room to manoeuvre. A party that wants to win federal elections in Canada cannot alienate immigrant communities. And finally, the search for a fault line within immigrant communities along the conservative/liberal axis over the question of sexuality and gender may alter the balance of political forces in the long term. Gender issues could be that fault line.
Respectively a professor of sociology at the Université du Québec à Montréal and a doctoral student in political science at Université de Montréal, our research focuses on nationalism, populism and political conflicts in Québec and Canada.
The politicization of trans issues by the conservative right
While there is nothing new about the religious right politicizing issues around sexuality, debates on gender and the inclusion of trans people have recently taken on greater importance.
The American right has been making these issues part of its general critique of liberalism for years. The appropriation of these issues in Canada is more recent. Bernier's PPC has made opposing "gender ideology" an important part of its program.
More recently, bills proposed by the Conservative governments of New Brunswick and Saskatchewan, which would require school principals to notify parents of a child's request to change their first name or pronouns, have also sparked heated debates. These debates pit "parental rights" against the rights of trans children to live in safety. In Québec, the use of gender-neutral first names and the question of gender-neutral washrooms have been added to the list of issues fuelling this polarization.
The conservative values of cultural minorities: a road to victory?
CPC results in the last three elections fell short of its expectations. However, slipping support for the Liberals, inflation, and the issue of home ownership being out of reach have all helped the CPC make inroads among young voters, particularly young men.
In the last election, the CPC's challenge was to reconcile the social conservatism of its base with a platform that would be acceptable to centrist voters. Andrew Scheer and Erin O'Toole stumbled over this problem.
Stephen Harper's Conservative majority in 2011 owed its success to wins in ridings with a high proportion of immigrants in the Toronto area, notably in Mississauga, Brampton, Richmond Hill and Vaughan. While these ridings were not part of Harper's initial strategy, the difficulty of rallying Québec nationalists forced him to change tack, so Harper turned his attention to the cultural minorities in Toronto's suburbs. In addition to conservative values, these communities shared the Conservatives' attachment to religion and to business friendly free-market policies. Harper also introduced tax measures that favoured a traditional model of the family, often a patriarchal family structure, which values the work of a single parent and where one spouse has a much higher income than the other.
Currently ahead in the polls, the CPC could make gains at the expense of the Liberals in Markham, Vaughan, Richmond Hill, Whitby and Pickering-Uxbridge, in some Toronto ridings, in Oakville and as far as the Hamilton suburbs. The CPC could also regain ridings in Greater Vancouver that it lost to the Liberals in the last election.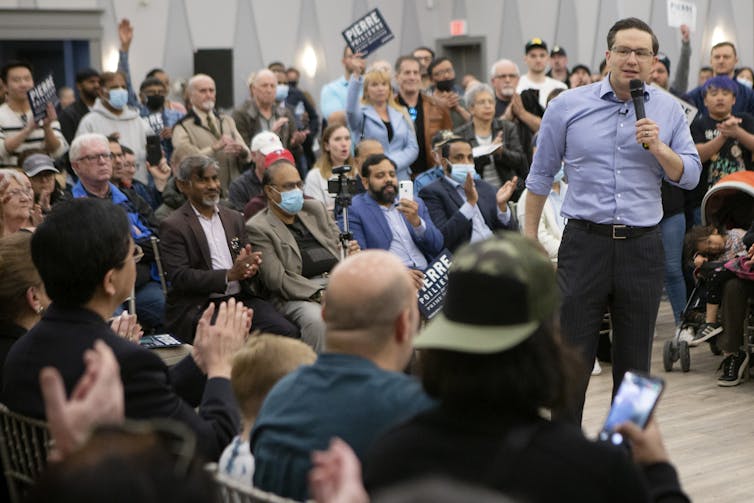 PCC's likely strategy
Poilievre probably sees the politicization of gender and sexuality issues as an opportunity to bolster support for the CPC in the run-up to the next election. To achieve this, it is unlikely that he will follow the example of the People's Party, which promised to limit the rights of transgender children, and choose not to interfere in provincial jurisdictions.
The CPC will probably stick to using dog whistles to call out "wokeism" and to support provincial governments and religious communities that denounce sex education programs.
That is exactly what Poilievre did at a gathering of Toronto's Pakistani community in August. In a speech delivered as part of Pakistan's Independence Day celebrations, he defended religious freedom as well as the right of parents to "pass on their traditional teachings to their children," and to "bring them up with their own values." Earlier in the summer, he opposed federal government interference in New Brunswick's policy requiring parental consent for LGBTQ students wishing to change their name or pronouns.
The CPC could benefit from public support on these issues. Although practices related to gender transitions are rare in Canada, they do spark the ire of conservative circles.
Other conservative positions, such as criticizing drug decriminalization in British Columbia and Liberal "wokeism" in response to crime, could also strike a chord with religious voters. So a strategy based on fiscal conservatism, law and order, the traditional family and conservative sexual values could be very advantageous for the CPC in many ridings.
What dilemmas for the opposition parties?
The CCP's strategy also calls into question those of the Liberal Party and the NDP. As defenders of ethnic communities and religious, sexual and gender minorities, but also as critics of Québec's Bill 21 on secularism, these parties have been nurturing voters at opposite sides of this ideological polarization.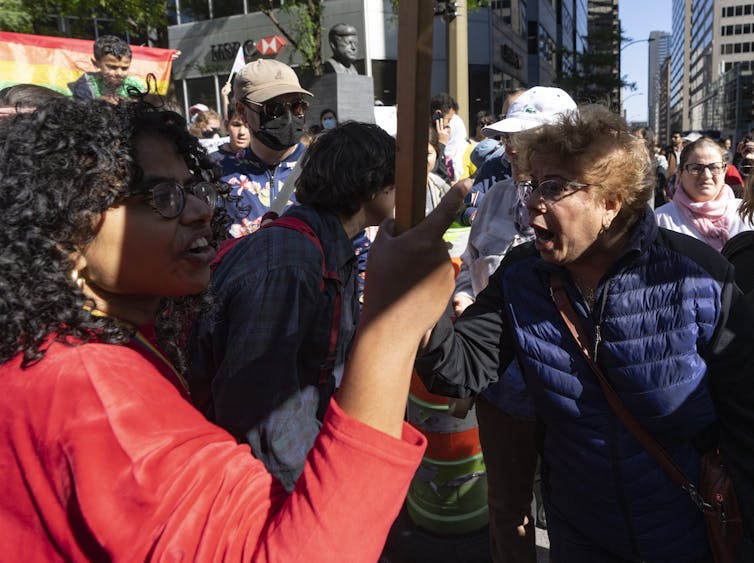 This development was predictable. The significant presence of certain cultural communities in anti-LGBTQ+ mobilizations shatters the simplistic idea promoted by the identitarian left that "diversity," because it is often in a minority position, is necessarily liberal and progressive.
Immigrant communities are heterogeneous and their views on issues of freedom of conscience and expression vary widely. But their community institutions, which are sometimes religious and patriarchal, don't always fit with the Liberal and NDP orientation towards citizenship and sexual diversity.
Reactions from Québec's nationalist milieu have been equivocal on these issues. On the one hand, the Bloc Québécois (BQ) says it supports LGBTQ rights and will continue to do so, but on the other says it is incapable of taking a position at the moment and wants to listen to both sides of the divide. The issue is also far from consensual among its provincial nationalist allies. Both the governing Coalition Avenir Québec (CAQ) and the Parti Québécois (PQ) raised concerns around gender theory in schools. The PQ leader, Paul St-Pierre Plamondon, went as far as speaking of a risk of seeing the "radical left" impose gender ideology on children. By refusing to take a clear position, the Bloc Québécois missed an opportunity to take a stand in favour of the rights of sexual minorities over those of outraged parents. By defending the right of provinces to use the notwithstanding clause, it chose to defend provincial autonomy over a defence of Quebec's National Assembly's stances on academic freedom and secularism. From the point of view of its constitutional strategy the BQ's strategy is coherent, but it opens the way to criticisms that its defence of LGBTQ rights and secularism is asymmetrical.
The CPC could, however, be faced with the possibility of a province using the notwithstanding clause to pass legislation protecting "parental rights," a use recently confirmed by Premier Scott Moe in Saskatchewan. It would be tricky for Poilievre to, on one hand, defend conservative provinces using the notwithstanding clause, and on the other, oppose Québec using the clause to defend its laws on secularism and the French language. Both the BQ and the CPC could therefore face catch-22 decision-making situations.
So a window could be opening up for Poilievre and the CPC. Wear and tear on Liberal power along with repeated Liberal blunders and economic challenges are all contributing to this. That said, the growing support of young people from different social and political trajectories for conservatism is part of a series of broader social and demographic changes that could shake up the political landscape for years to come.