Paul Bernardo is one of Canada's most notorious criminal offenders.
Bernardo has been incarcerated since his arrest in 1993 for the sexual assaults he perpetrated as the Scarborough Rapist and for the kidnapping, aggravated sexual assault and first-degree murders of teenagers Leslie Mahaffy and Kristen French. He was convicted on these charges, as well as manslaughter in the death of Tammy Homolka — the sister of his co-accused, Karla Homolka — and of committing an indignity to a body.
At sentencing in 1995, Bernardo was designated a dangerous offender based on his high risk of committing further sexual violence. In accordance with the Corrections and Conditions Act, dangerous offenders usually receive an indeterminate sentence. When murder charges are involved, it's normally an indeterminate life sentence.
After 25 years of incarceration, Bernardo can apply for parole every two years. He has been denied day and full parole by the Parole Board of Canada the two times he has applied.
Transferred to Québec
Bernardo was recently transferred from Millhaven, a maximum-security prison in Ontario, to La Macaza medium-security prison in Québec. Political and public response was immediate and visceral.
Correctional Service Canada (CSC) policy says that maximum-security is meant to be temporary and prepare inmates for eventual transfer to medium-security facilities.
Bernardo has been in maximum-security prisons for three decades. Medium-security institutions have the same security safeguards as maximum-security prisons, but there's more movement and interaction among inmates. The facility in Québec is reportedly well-equipped to house sex offenders who are at elevated risk of violence from other prisoners.
Bernardo has spent the majority of his 30 years in prison segregated in protective custody. According to 2016-2017 data, an inmate in segregation costs an estimated $463,045 annually compared to $92,740 for a maximum-security inmate and $75,077 for those in medium-security institutions.
La Macaza seems like an appropriate place to move Bernardo if he has been assessed to be at low risk of escape, even though medium-security institutions are just as secure as maximum-security prisons. Although medium-security institutions allow more interaction with others, La Macaza can specifically provide the additional protection an infamous inmate needs at a significantly lower cost to taxpayers.
Predictable outrage
As a criminologist, nothing about Bernardo's transfer to a medium-security institution after 30 years is surprising to me based on standard procedures and available information. As a true crime researcher, I'm also not surprised by the outrage.
Tim Danson, the lawyer representing the French and Mahaffy families, said "we need an open and transparent discussion and debate" about whether Canadians and victims' families are entitled to information about people who are incarcerated, including potential transfers.
Family members of victims are not told of inmate transfers because it's considered confidential information. The Bernardo transfer likely only became public because it was leaked by someone with access to the information.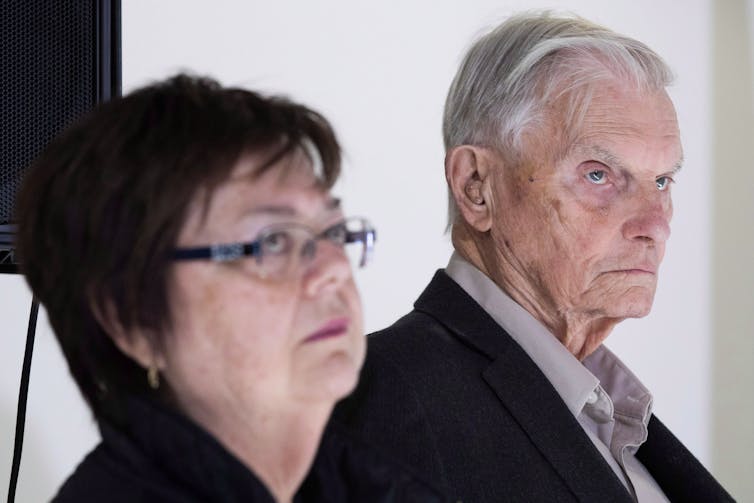 The CSC has now tasked a review committee "to examine the appropriateness of his new security classification and transfer to a medium-security facility, review victims' considerations and notifications and whether the legislative and policy framework was followed in this case."
The federal Conservative Party published a statement on its website pledging that "Conservatives will ensure Paul Bernardo rots in maximum-security prisons." The party is proposing legislation that would require all dangerous offenders and mass murderers to be permanently assigned to maximum-security institutions.
I'm not concerned that Bernardo's transfer to a medium-security prison puts public safety in jeopardy, but I am nervous about the potential fallout from this news.
Serial killers rare
Ontario Premier Doug Ford has stated: "This scumbag Bernardo should rot in hell."
He also told the media:
"When we sentence someone to life sentences, that means a life sentence in jail, maximum security, 23 hours a day. Matter of fact, I'd go one step further — that one hour he's out should be in general population."
Ford insinuates that prison violence is not only a reality of incarceration, but part of the punishment.
Violence in prisons is rampant. Infamous serial killers (including Albert DeSalvo, Léopold Dion and Jeffrey Dahmer, to name a few) have been killed by other inmates during their incarcerations.
Bernardo is infamous largely due to being such an unusual offender in Canada. Violent crime is often assumed by the general public to be more rampant than it is, especially when perpetrated by strangers. In fact, serial killers are incredibly rare.
The concern is that Bernardo's transfer, which would probably have gone unnoticed if he were not a household name, will lead to policy changes and legislative reforms that will negatively impact other people.
The situation also raises questions for Canadians and politicians about prisons, public safety and justice. Rather than focusing on whether one man is being punished harshly enough, there must be necessary conversations about the purpose of prisons, whether they're meant to be solely punitive or serve any rehabilitative functions, and what justice means to Canadians.
Focusing on one infamous serial killer does not make Canadians safer, nor does using an exceptional case to change correctional policy.