The final report of the Mass Casualty Commission investigating the April 2020 mass shooting in Nova Scotia that left 22 people dead makes several recommendations to meaningfully change Canada's gun laws.
The commission's seven-volume report addresses its broad mandate, which includes:
Considering the "causes, context and circumstances giving rise to the tragedy."
The police response to the shootings.
The role of gender-based and intimate partner violence.
Access to firearms.
The commission identifies many "lessons learned" that inform its recommendations about firearms. It concludes that a priority "should be placed on reducing access to the most dangerous, high-capacity firearms and ammunition."
It also concludes that current firearms laws don't adequately protect against the unlawful transfer of guns upon the death of owners, and that effective border control requires a collaborative and co-ordinated approach among border agencies to potential weapons smuggling.
Women at risk
The commission also determined that the safety of women survivors of intimate partner violence is "put at risk by the presence of firearms and ammunition in the household."
It also notes that firearm laws are inconsistently enforced, and that the current approach to gun control is hampered by inadequate community engagement with those involved in addressing gender-based violence and implementing firearms policy.
---


Read more:
Mass Casualty Commission report details the Nova Scotia shooter's abuse of sex workers


---
The Mass Casualty Commission further recognizes that the public often lacks accurate knowledge about gun laws.
It warns that Canadian beliefs are "influenced by the United States discourse centred on a right to bear arms," which "does not exist in our constitutional and legal structure." The commission also laments that discourse about firearms "has become increasingly polarized."
Finally, the commission finds that there is a lack of community knowledge about the impact of firearms-related harms, and that some people do not have safe and accessible ways to report concerns over guns.
Limiting access to some firearms
These lessons learned shape the commission's many recommendations, including:
Better data collection to limit gun smuggling.
Setting limits on the stockpiling of ammunition by individual firearms owners.
Undertaking a nationwide public education program to increase public awareness of firearm laws.
The lesson that a priority "should be placed on reducing access to the most dangerous, high-capacity firearms and ammunition" leads the commission to recommend that Ottawa:
"Prohibit all semi-automatic handguns and all semi-automatic rifles and shotguns that discharge centre-fire ammunition and that are designed to accept detachable magazines with capacities of more than five rounds."
This recommendation is noteworthy given the recent heated debate over gun control. Since coming to power, the Liberals under Prime Minister Justin Trudeau have reformed Canada's gun laws. For example, Ottawa banned the sale and transfer of handguns in 2022.
Later that year, the Liberals also introduced amendments to their current gun control bill, Bill C-21, to prohibit some semi-automatic rifles and shotguns not captured in earlier prohibitions.
The amendments also included a revised firearms classification system to prevent new models of firearms similar to those prohibited previously from entering the market.
A non-partisan analysis
The Bill C-21 amendments proved controversial partly because critics argued they were politically motivated. The Liberals withdrew them in February, but the Mass Casualty Commission now recommends a similar effort to limit access to the kinds of semi-automatic weapons often employed by mass shooters.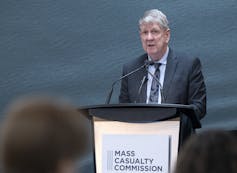 This is significant, because the commission is a non-partisan body. The chair of the commission, Michael MacDonald, is a retired Nova Scotia chief justice. The other commissioners are Leanne J. Fitch, who served for seven years as Chief of Police for the Fredericton Police Force, and Kim Stanton, a lawyer and legal scholar.
The commission developed its recommendations after extensive study and analysis. It is the most ambitious, thorough and open study of a mass casualty in Canadian history. It collected and made publicly available an extensive set of primary source documents and it shared "foundational documents" containing key facts and events.
It also examined and summarized national and international reports prepared in response to similar mass shootings.
It commissioned and published 23 expert reports and technical reports to help the commissioners better understand the issues related to its mandate. And it broadcast, recorded, transcribed and published its proceedings.
Groups for and against gun control received status as participants in the commission. The Coalition for Gun Control was a participant, as were the National Firearms Association and Canadian Coalition for Firearm Rights. These groups provided written submissions, examined documents and spoke before the commission.
In the end, the commission found the evidence presented by those who support stronger gun laws more persuasive. Its final report asserts the importance of "affirming that gun ownership is a conditional privilege," not a right.
The pressing question now is whether — and, if so, how quickly — the federal government will implement the Mass Casualty Commission's gun policy recommendations.