NATO's incursion into the Indo-Pacific region is a move that will exacerbate regional conflicts and tensions. That's because NATO cannot be separated from the history of European colonialism and imperialism that shaped modern Asia — and plays a major role in Chinese nationalism today.
In 2022, NATO declared that China was a "challenge" to the alliance's "interests, security and values." Recently, NATO has argued that possible Chinese assistance to Russia in its war against Ukraine makes China a military threat to Europe.
NATO is opening a liaison office in Japan and is partners with Japan, Australia, New Zealand and South Korea. This may be a first step to deeper European involvement in Asia's security architecture.
Japan argues that the war in Ukraine has destabilized the world, and has invited NATO into the Indo-Pacific to deter China. However, NATO is widely distrusted in the non-western world.
NATO: An American puppet?
Since the end of the Cold War, NATO has acted as an extension of American power. NATO's bombing of Kosovo and Serbia in 1999 violated the United Nations Charter. NATO's intervention in Afghanistan was authorized by the UN, but it assisted the illegal and devastating U.S. invasion of Iraq by freeing American military resources.
The UN Security Council also gave the green light to NATO's intervention in Libya, but NATO states violated the terms of that resolution to pursue their own political and economic objectives in the North African country. The result was the destruction of Libya and the spread of instability across North Africa. There are no states in Africa that would call NATO "a defensive alliance."
Very few countries support Russia's invasion of Ukraine. However, the non-western world — including most of Southeast Asia — generally accepts Russia's claim that it invaded Ukraine to protect itself against the expansion of NATO. To much of the world, the reality of western militarism makes Russia's arguments entirely plausible.
China fuels regional prosperity
Most Southeast Asian states have set aside their historical grievances with the West. They are committed to an international system that — somewhat accidentally — has served them well.
Regional states are concerned about the rise of China and its acts of intimidation. Yet China is the No. 1 trading partner of most Asian states. Regional prosperity depends on China's success.
Asians are cautious about western provocations over issues like Taiwan. Asians want the U.S. present to balance China's power, but that doesn't mean they want a European military alliance operating in their region.
In particular, states that are part of the Association of Southeast Asian Nations (ASEAN) want to manage regional security without outside interference.
Southeast Asians' perception of a predatory international system is based on their experiences with European colonialism. Their focus on protecting state sovereignty is directly linked to this history. Their stated preference is to build economic and diplomatic connections to manage regional conflict.
China has also prospered under the existing system and has a stake in its continuation. But it's considered a threat because it will not be subservient to western power, especially American.
Consequently, it's been encircled by more than 300 American military bases and subjected to intense U.S. economic and technological sanctions.
Century of humiliation
Chinese nationalism has been stoked by what's known as the "century of humiliation" from 1839 to 1949, when European powers, the U.S. and Japan took part in seizing Chinese territory, imposing unequal treaties and brutalizing the Chinese people.
NATO is a European military alliance that is establishing a strong working relationship with Japan. This plays directly into China's concerns that the same powers that humiliated it in the past are lining up for a second attempt.
Asian states that find the Russian explanation for the war in Ukraine plausible will clearly be concerned that NATO's move into the region is duplicating the same hostile dynamic of backing an adversary into a corner.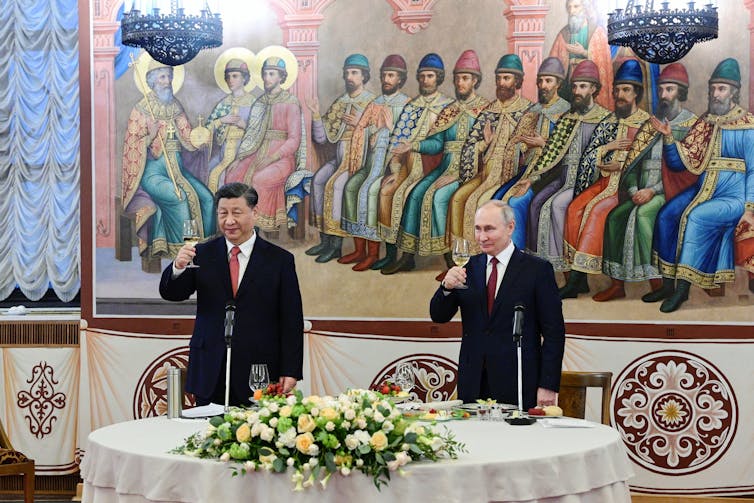 For the past several centuries, world politics have been defined by western colonialism and violence. That era never really ended.
After the Second World War, Europe passed the torch of global western imperialism to the U.S. Since the end of the Cold War, the U.S. — often assisted by NATO states — has frequently engaged in illegal violence around the world, most notably with its invasion of Iraq.
Therefore, it's not surprising NATO claims that it's merely a "defensive alliance" are viewed skeptically in the non-western world. What is surprising is that western powers seemingly cannot understand why their insistence that they represent a "rules-based international order" fails to resonate with much of the globe.
NATO's growing presence in the Pacific evokes a painful history that the western world has never confronted or fully acknowledged. NATO ignores how its recent actions affect how it's perceived in the larger world and how those actions lend credence to states that see NATO as a threat.
Its presence in the Indo-Pacific can easily be construed as a new attempt to reassert western military domination of the region.