When a draft of an upcoming United States Supreme Court decision curtailing legal abortion access in the U.S. leaked in May 2022, Karina Gould, Canada's minister of families, children and social development, declared that Americans seeking abortions would be welcomed north of the border.
A month later the Supreme Court overturned the landmark 1973 Roe v. Wade decision that provided constitutional protection for legal abortion in the U.S. via its Dobbs v. Jackson Women's Health Organization ruling giving state legislatures the power to regulate the procedure.
Mexican abortion referral organizations like Las Libres immediately noticed an uptick in English-speaking American women inquiring about abortions south of the border.
Cross-border abortion travel is not new. Assisted by formal and ad hoc cross-border referral networks, American women who could manage the costs travelled abroad to countries like Mexico, Canada and Great Britain for abortions before 1973, although most travelled domestically to the few states that had already legalized abortion.
After 1973, a powerful anti-abortion movement arose to chip away at legal abortion stateside, resulting in numerous barriers to timely abortion provision. These measures compelled Americans to travel within and across states for abortion access, compounding the effects of those barriers.
The Texas 'heartbeat' law
Texas is possibly the most extreme example of a state that increasingly restricted access to abortion services, even prior to Dobbs. The state's anti-abortion efforts culminated in a "heartbeat" law in 2021 that made abortion illegal after six weeks of gestation, with no exceptions for pregnancies resulting from rape or incest.
Ordinary citizens can enforce this law — and become eligible to receive a financial reward — by turning in those who perform, aid or abet an abortion. These mechanisms resemble Jim Crow racism and vigilantism against people of colour.
---


Read more:
Jim Crow tactics reborn in Texas abortion law, deputizing citizens to enforce legally suspect provisions


---
Even before the Supreme Court's 2022 Dobbs vs Jackson Women's Health Organization decision, Texas abortion referral organizations like Jane's Due Process and the Lilith Fund materialized to counter the negative effects of the state's anti-abortion legislation on the most vulnerable.
Those who could afford to travel to neighbouring states for abortions did so. But disadvantaged by poverty, comparatively few racialized and low-income women could do the same, while undocumented and migrant Latina women were burdened further by coercive immigration controls and inland border surveillance.
Post-Dobbs, the impact of the harmful restrictions on Texas abortions are all too real, even for the relatively privileged.
But safe and legal abortion is disproportionately unattainable for those from marginalized communities, deepening pre-existing health-care, economic, regional, gendered and racialized inequities.
Mexican networks helping women
Abortion referral networks have now expanded rapidly to assist millions of women of reproductive age living in states — the majority, like Texas, clustered in the southern U.S. — where abortion is almost completely banned.
Of particular interest are Mexican abortion referral networks that draw upon decades of experience with tenuous abortion provision in Mexico to assist American citizens and undocumented migrants seeking abortions.
The Mexican networks speak to the value of different forms of mobility across a militarized and racialized southern border that is historically a migration flashpoint, and they might also inspire the revival of cross-border abortion referral networks along the Canada-U.S. border if necessary.
Red Transfronteriza, an abortion referral network of approximately 30 Mexican and American abortion rights groups, guides those travelling across the border for clinic abortions and mails abortion pills to U.S. addresses, using the internet to assist those using the medication to self-manage abortions in their own homes.
Usually a combination of the drugs mifepristone and misoprostol, abortion pills are used in more than half of all first-trimester abortions in the U.S. Some 20 years after receiving U.S. Food and Drug Administration approval, they're now under attack.
Abortion pills bans
Wyoming has now become the first state to ban medication abortion. Yet a year before the Dobbs decision, Texas limited the number of gestational weeks when abortion pills can be prescribed legally and penalized the mailing of abortion pills.
More recently, a Texas man sued his ex-wife's friends for helping her access a medication abortion to end her pregnancy.
An anti-abortion organization, Alliance Defending Freedom, also filed a lawsuit in a federal court in Texas challenging the FDA's approval of mifepristone, citing safety concerns.
If successful, the lawsuit could pull mifepristone off the market throughout the U.S. even though studies confirm its safety and, when used with misoprostol, its efficacy in ending pregnancies with minimal side-effects.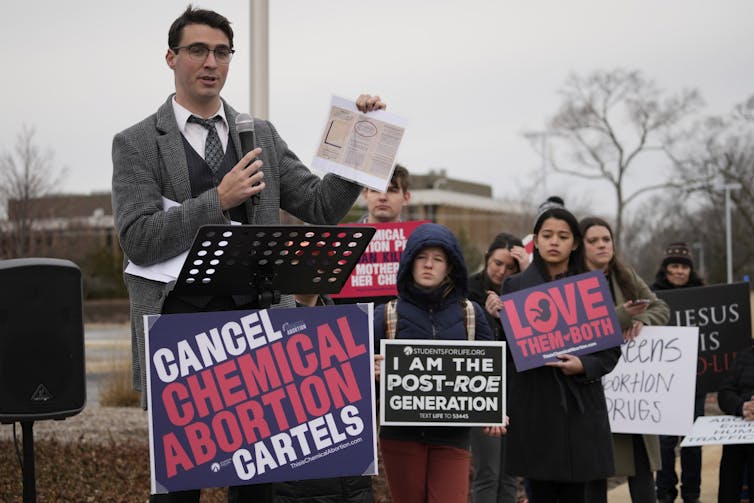 Canadian ramifications
The post-Dobbs era has important ramifications that Canada should prepare for. The cross-border abortion referral networks now operating between Texas and Mexico model the kind of abortion provisions that are medically and technologically pertinent in the 21st century.
But first, Canada's federal government, and its provincial and territorial partners, must commit to equal access to a wide range of sexual and reproductive health services such as sex education, contraception and abortion.
Abortion access in Canada is still hampered by longstanding barriers that play out regionally, necessitating travel for abortion services within Canada and sometimes to the U.S. They must be resolved, including addressing the uneven provision of medication abortion in the country.
British Columbia's decision to offer free coverage of prescription contraceptives this April is a hopeful sign.
The federal government should encourage the adoption of that commitment nationally — and signal its significance on the international stage.