In September, India will host the 2023 Group of 20 (G20) summit in the capital, New Delhi. Events and meetings are already taking place in other venues around the country. Under its G20 presidency, India will host a Tourism Working Group meeting in Srinagar, in Indian-administered Kashmir, in late May.
New Delhi wants to show the world that normalcy has returned to the picturesque, resource-rich region and that the disputed territory is open to visitors and investors.
The iconic Dal Lake will form the backdrop for the meeting. International delegates will also visit Gulmarg, a popular winter destination, under tight security provided by India's Ministry of Home Affairs.
The route to Gulmarg is lined with barbed wire. Armed soldiers keep watch from fortified bunkers. The resort town is near the Line of Control that bifurcates Kashmir into Indian-held and Pakistani-held areas.
Hosting G20 delegates in Srinagar is a step towards normalizing India's occupation of Kashmir internationally. But Kashmiris continue to demand their right to self-determination in accordance with international law and United Nations resolutions.
International attendance of the meeting will seriously undermine their efforts.
In Canada, the NDP has called on the federal government to boycott any G20 meetings that take place in Kashmir, citing the Indian government's human rights abuses. However, the Trudeau government has reportedly ignored those calls.
Normalizing occupation
Beautification projects are underway in Srinagar on an industrial scale. These revitalization campaigns are designed to create a sanitized image of Kashmir for foreign delegates. The region remains troubled by violence and human rights abuses, as well as draconian media restrictions.
Human rights activists and journalists are being arrested and there have been reports of hundreds of young people being detained by security forces.
Urban renewal in Srinagar is a tool of displacement and dislocation. I spoke with Asghar, a long-time Kashmiri resident of Srinagar, over the phone earlier this month. He described how urban redevelopment projects are changing certain sections of the city entirely. This, coupled with the government's name-changing spree, is creating a sense of alienation for locals who feel out of place in their own homeland.
The Indian government is planning to temporarily minimize the visible presence of troops in the heavily militarized region by building "smart bunkers." These are bunkers painted in pastel tones and subtly positioned so they remain unnoticed by foreign visitors.
"Smart policing" is also underway. This includes security agencies monitoring social media, gathering local intelligence, and surveillance through CCTV cameras and aerial drones.
Police officers handling foreign delegates are being trained to display a softer and more polite image. This is in sharp contrast to the treatment of Kashmiris by Indian security personnel.
G20 and tourism
Founded in 2020, the G20's Tourism Working Group guides the development of local and global tourism among G20 countries with an eye to achieving the UN's 2030 Agenda for Sustainable Development.
The G20 meeting is the first global event to be held in the Kashmir valley since India unilaterally removed the region's semi-autonomous status in 2019. Since then, the region has undergone significant rezoning and re-districting.
Semi-autonomous status granted Kashmiris some territorial and cultural rights while living under Indian rule. The designation recognized that India was only a temporary administrator of Kashmir. And that Kashmiris had the right to ultimately decide their own future.
Indian Prime Minister Narendra Modi and his Hindu nationalist Bharatiya Janata Party (BJP) long opposed Kashmir's special status. Revoking it was in the party's 2019 election manifesto.
Tourism is big business
India is seeking to capitalize on the scenic beauty of the Kashmir valley that it illegally occupies. Domestic tourists from India visited Kashmir in record numbers last year.
Since coming into power in 2014, Modi's government has also heavily promoted religious tourism in the disputed territory. Last year an estimated one million people from all over India attended the annual Amarnath Yatra, a 43-day Hindu pilgrimage, amid heavy security.
With the return of direct international air travel to Indian-administered Kashmir and the construction of railway infrastructure that connects the region to India, the Indian government is determined to open Kashmir to the world.
On the other hand, the mobility of local Kashmiris remains severely restricted. Ultimately, we must question what kind of connectivity is desired, by whom and for what purpose.
Tourism and settler-colonialism
The Indian government sees Kashmir as an "integral part" of the country and wants to make its occupation permanent. Tourism plays a direct role in legitimizing and expanding the Indian control of Kashmiri lands.
Kashmir scholar Ather Zia cautions against uncritically accepting tourism as a form of development. Tourism in settler-colonial contexts is an extension of imperial politics. It is the process by which colonized lands are absorbed by a hegemonic state.
This is achieved by fostering a sense of attachment for those with little or no connection to occupied lands. The Indian government has weaponized the law to make it easier for Indians to visit and settle in Kashmir, disavowing and erasing Indigenous Kashmiri claims to the same lands.
The Indian government also aims to change the demographics in the Muslim-majority region in favor of Hindus.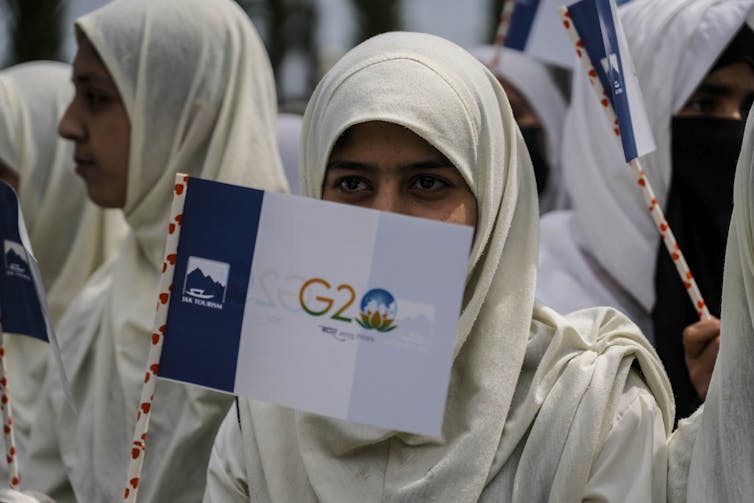 Decolonizing tourism
All of this raises questions about the ethics of tourism in occupied territories.
Indigenous governance and Native Hawaiian scholar Hōkūlani K. Aikau and Vernadette Vicuña Gonzalez argue that
colonialism is the ultimate breach of guest protocol that violates a welcome that was never extended. By visiting areas under occupation, tourists, unknowingly or knowingly, reproduce the violent colonization of peoples and places.
Those visiting Kashmir must first learn about the decolonial history of the region, one that honours Kashmiri calls for self-determination and sovereignty. They must follow the principle of do no harm by not visiting tourist sites or using tour operators run by Indian authorities. They should support local Kashmiri-run businesses as much as possible.
There is no simple resolution for tourism on occupied lands. Tourism amid settler-colonialism manifests in exploitation, dispossession, commodification and other injustices and inequities. The goal of ethical travel is not immediate perfection or self-exoneration. It is an invitation to think about our own actions and complicity.