On Oct. 4, 2023, just days before the Hamas attacks on Israel and the retaliatory Israeli aerial bombardment and siege on Gaza, thousands of Israeli and Palestinian feminist peace activists gathered in Jerusalem and near the Dead Sea.
Representing Israeli-based Women Wage Peace and Palestinian-based Women of the Sun, this feminist peace coalition called on political leaders to negotiate an end to the bloodshed and resolve the conflict between Israel and Palestine.
Three days later, Hamas militants attacked Israeli communities along the Gaza border, killing more than 1,300 people and kidnapping as many as 190, according to Israeli officials.
Israel has responded with an all-out siege of Gaza, cutting off power, water and food and initiating a punishing aerial bombardment that has killed hundreds of Gazans and displaced countless others. A massive Israeli military ground invasion appears likely, but there is nowhere for more than two million Palestinians to flee in a territory under siege.
---


Read more:
Israel seems poised for a massive invasion of Gaza rather than prolonged attrition


---
Difficult statement
Following the Hamas attack, Women Wage Peace posted an image of a bloodied dove on their social media feed.
A week later, the movement issued a full statement on the rapid escalation of violence in Gaza:
"Every mother, Jewish and Arab, gives birth to her children to see them grow and flourish and not to bury them. That's why, even today, amid the pain and the feeling that the belief in peace has collapsed, we extend a hand in peace to the mothers of Gaza and the West Bank."
This was undoubtedly a difficult statement to write through their grief and anguish. Veteran Canadian-Israeli activist Vivian Silver, a founding member of Women Wage Peace, is among those Israelis presumed kidnapped or murdered in the Hamas attack. And today, Palestinians struggle to stay alive under Israel's campaign of collective punishment in Gaza.
But this statement of cross-community solidarity — steadfastly insisting on peace in the face of war — is emblematic of the power and resolve of feminist anti-war collective action.
Both Women Wage Peace and Women of the Sun were founded after the 2014 Gaza War, a 50-day conflict that caused mass displacement and injury and left more than 2,250 Palestinians dead. That included more than 550 children, according to the United Nations Relief and Works Agency for Palestine Refugees (UNRWA).
In 2016, Women Wage Peace organized a mass March of Hope — which included 30,000 people in Israel and 3,000 Palestinians from the West Bank — carrying a message of peace in the wake of violence and death.
Women of the Sun was founded in Bethlehem by Palestinians living under occupation to empower Palestinian women and call for peace. Today, the partnership between the two organizations is the result of earlier iterations of women-led peace activism throughout the conflict.
Other peace movements
For example, the Women in Black movement, forged during the early years of the first Palestinian uprising in the late 1980s, brought together Israeli peace activists in Jerusalem to hold weekly vigils carrying signs that simply read "End the occupation."
The movement went on to inspire similar vigils in Israel and cities worldwide. The global Women in Black movement has been nominated for a Nobel Peace Prize and maintains an active network today.
Similarly, in the mid-1990s, Palestinian and Israeli feminists formed a feminist peace initiative called the Jerusalem Link following the Oslo peace process, initiated in 1993. Jerusalem Link brought together Israeli women affiliated with the women-led Bat Shalom peace movement and Palestinian women affiliated with the Jerusalem Centre for Women, based in East Jerusalem.
These are hard-fought feminist peace movements that are difficult to sustain amid occupation and war.
I once interviewed Palestinian and Israeli peace activists representing Women in Black and the Jerusalem Link while researching feminist peace communities in Israel and the occupied West Bank in the mid-2000s.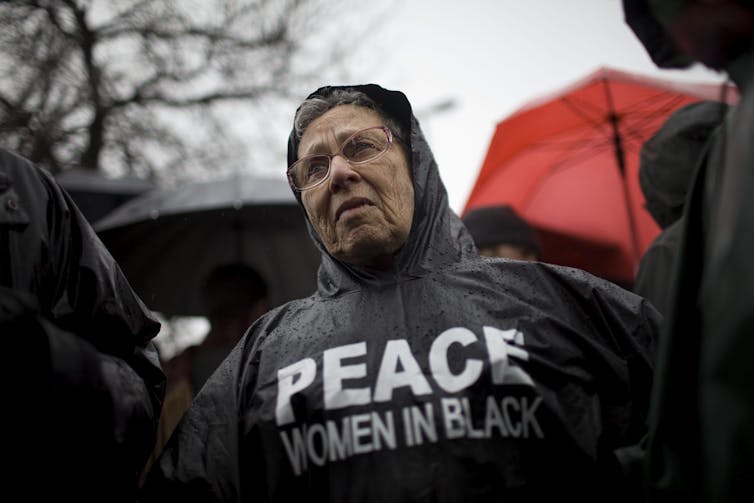 I was buoyed by the solidarity and careful dialogue women developed with each other but also dismayed by how difficult it was to maintain joint action as construction on a new Israeli wall began to choke off the West Bank and Israeli settlements expanded through the occupied territory.
The joint Women Wage Peace-Women of the Sun initiative is another call for peace. The international community — including states that claim to have a feminist foreign policy, like Canada — should elevate their voices.
Entrenching divisions
But when political leaders like Canadian Prime Minister Justin Trudeau cast Palestinian solidarity demonstrations as "a glorification of violence," it entrenches the very kinds of divisions that Israeli and Palestinian people are working to overcome every day.
Trudeau's portrayal of demonstrations as celebrations of Hamas violence was similar to the actions of London police, who criminalized pro-Palestinian protesters, and total bans in France and Germany of demonstrations of Palestinian solidarity.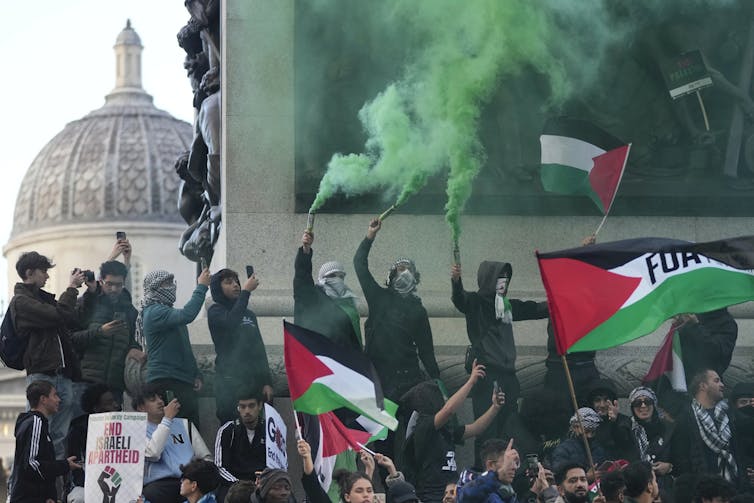 The 1993 Oslo peace accords introduced the "two-state solution" and initiated a "peace process," calling for Palestinian self-government and promising Palestinian political autonomy. But elections held under an intensifying occupation and limited autonomy without sovereignty don't amount to a Palestinian state.
In 2000, the UN Security Council Resolution 1325 on Women, Peace and Security mandated the inclusion of women's participation in conflict resolution and peace-building, including support of local women's peace initiatives.
This month, the UN celebrates the 23rd anniversary of the resolution. Canada is set to release its third National Action Plan on the resolution soon as part of its ostensible commitment to a national feminist foreign policy.
Resolution worthless?
As the United States withdrew from Afghanistan, Fionnuala Ní Aoláin, outgoing UN Special Rapporteur on Human Rights and Counter-Terrorism, remarked:
"We've had 20 years plus of the Women, Peace and Security agenda. And if that agenda doesn't mean something now, it's worthless."
The peace community is awaiting news of Silver, the missing Women Wage Peace activist.
Speaking with the BBC, her son Yonatan Ziegen imagines what his mother would say to the world: "This is the outcome of war. Of not striving for peace, and this is what happens." Today, Palestinians in Gaza are living this reality following Israel's warning to evacuate.
If our national commitment to women, peace and security and our feminist foreign policy means anything at all, we must stand together for human rights and justice and endeavour to elevate the many voices of solidarity and peace.