An armed band of Serb militants recently ambushed police in Kosovo. In the resulting firefight and retreat, four people — including a police officer — died from their wounds.
The incident sparked official recriminations from both Kosovo and Serbia, culminating in Serbia moving its armed forces towards the countries' shared border only to subsequently withdraw them due to pressure from the United States.
Tensions between the two countries are nothing new. Serbia and Kosovo were previously united under Yugoslavia. The collapse of the country in the 1990s, however, caused Kosovo to push for independence.
Kosovar forces, backed by NATO, expelled the remnants of the Yugoslav army in 1999. Kosovo, however, remains central to Serbian national identity and Serbia has never truly reconciled itself to Kosovo's independence.
While Serbia's withdrawal of military forces from the Kosovo border has seemingly solved the crisis for now, it still has the potential to escalate.
Despite European Union and American pressure, Serbia subsequently released one of the alleged organizers of the attacks. Serbia, in other words, is indirectly condoning the action of the Serb militants.
Failure to act
Serbia's ability to do so directly speaks to the EU's failure in the Balkans. The U.S. and the EU have largely neglected the region, hoping that the allure of EU integration would be enough to placate Serbia and other countries.
It has not, and this failure now threatens to undermine the EU.
---


Read more:
Why North Macedonia is the European Union's latest self-inflicted wound


---
In the aftermath of the 1999 war in Kosovo, EU leadership hoped Serbian politicians would abandon their nationalist policies of the 1990s.
The overthrow of former Serbian president Slobodan Milosevic in 2000, and the EU identifying Serbia as a candidate for expansion to join the union in 2003, provided Serbian politicians with an alternative policy to the nationalism of the past.
Serbia officially submitted its application to ascend to EU member status in 2009. Unfortunately, Serbia's progress towards that goal has been painfully slow.
Slovenia and Croatia, two other former Yugoslav states, ascended to the EU in 2004 and 2013, respectively. From formal submission to full member status took each country 10 years or less.
Serbia's application, now in its 14th year, shows no sign of being formally processed as it fails to meet many of the judicial, economic and political standards the EU requires for membership.
Serbia has made several gestures towards achieving EU membership. Most notably, it agreed to a plan to normalize relations with Kosovo. For many Serb nationalists, the question of Kosovo's independence elicits visceral reactions due to Kosovo's prominence in Serb nationalist identity.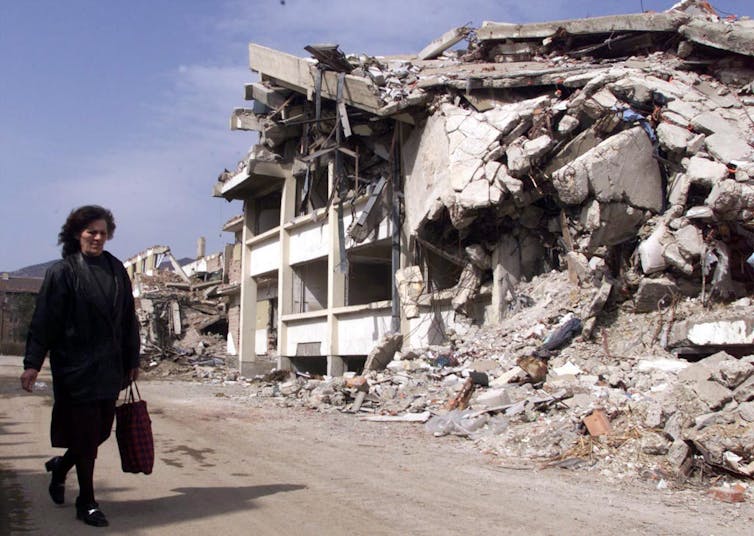 Fast-tracked
Neither the EU nor the international community should ignore the need for Serbia to continue to reform in order to meet those requirements.
The EU, however, has a long tradition of sidestepping requirements when it sees long-term benefits from rapid integration.
Greece, Estonia and other countries were admitted to the EU despite arguably failing to meet its standards. That's because the EU has admitted nations due to ideological reasons and perceived political benefits of admitting them.
In Serbia, EU membership remains a distant possibility that will probably only benefit future generations. Today, Serbians are seeking alternate ideologies that promise more immediate returns.
Given the EU's association with liberal democracy and globalism, some Serbs are embracing populism and anti-western nationalism.
It's important to note that this isn't the same type of nationalism embraced by Serbs in the 1980s and 1990s. The current strain of Serb nationalism, instead, has been fuelled by EU demands on Serbia and the slow pace of ascension.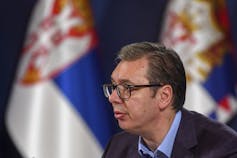 Serbia's current leader, President Aleksandar Vučić, vividly illustrates the failure of EU policies towards Serbia. A former minister under Milosević, Vučič branded himself pro-European in the early 2010s.
During Vučić's leadership, he has consistently advanced pro-EU reforms and strengthening ties with Kosovo.
Unfortunately, the EU hasn't reciprocated Vučić's gestures beyond vague encouragement. Neglect by the EU has, in turn, made Serbia and Vučić less susceptible to international pressure. This has been obvious when observing the EU's relations with Serbia after Russia's invasion of Ukraine in February 2022.
EU's failure to focus on Serbia
EU policymakers hoped Serbia would join the sanctions against Russia. Instead, Serbia reached an agreement with Russian energy giant Gazprom in May 2022 to meet domestic Serbian needs.
EU foreign policy chief Josep Borrell is now threatening Serbia with punitive measures if it does not stop provocations over Kosovo.
The problem with such threats, however, is that they lack substance. The EU, with larger internal and international concerns, is limited in its ability to apply pressure.
The recent outbreak of war between Israel and Hamas will only make the EU's ability to focus on Serbia more difficult.
Likewise, there is no positive incentive for Serbian politicians to adhere to EU requirements. Serbian politicians want the EU to accelerate talks about Serbia's entry into the union. The EU, however, has demonstrated that the chance of real progress on this matter is remote.
This reality has dampened enthusiasm from Serbians about the prospect of joining the EU.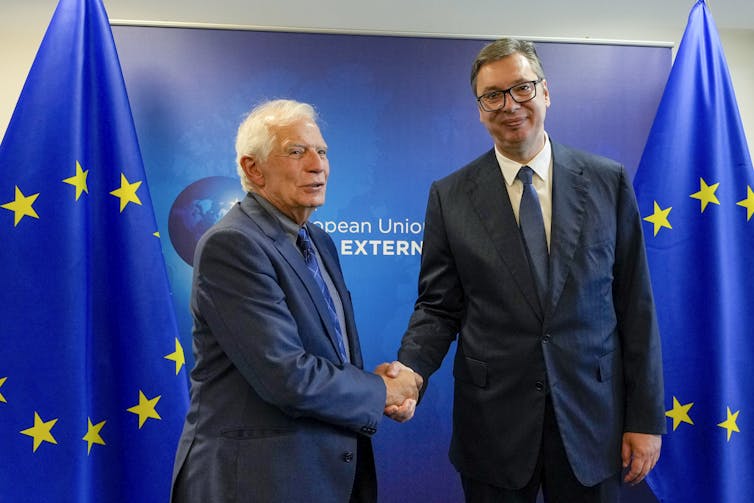 Hungary backs Serbia
The EU's problem is that its domestic and international problems not only limit the ability to deal with Serbia, but Serbia-Kosovo tensions magnify the EU's own issues. Hungary's Viktor Orban, for example, has already stated his country — an EU member — would veto any sanctions against Serbia.
Serbia's provocations against Kosovo also provide Russia with a potential wedge issue in its efforts to divide the EU, as demonstrated by Orban's statement.
EU support for Ukraine is already facing challenges from members like Slovakia. The EU's failure to deal with Serbia in the past will only stoke such challenges, and further inhibit the organization's ability to respond to crises like Ukraine.