There's recently been a lot of news coverage about various efforts by states allied with Ukraine to seize Russian assets that are on their territories, and use these assets — or the money made from selling them — to help Ukrainian war relief.
Canada was the first state to put such measures into place with amendments to the Special Economic Measures Act (SEMA) that allow for seizure and forfeiture of Russian-owned property by way of court proceedings.
The government has already seized a company belonging to Russian oligarch Roman Abramovich, and, more recently, a privately owned Russian cargo plane.
What about state-owned assets?
More contentious has been the issue of whether this applies to property owned by the Russian state. Under the international law of state immunity, states are generally immune from court proceedings in other countries. Their property is protected from seizure or execution, especially assets owned or held by central banks.
In Canada, these rules are applied via the State Immunity Act (SIA), which explicitly exempts states and their property from the court-based forfeiture process.
This is no small obstacle to Canada's goal of using Russia's assets to remedy its ongoing destruction of Ukraine. While the oligarchs' money may be susceptible to seizure, it amounts to tens or perhaps hundreds of millions — a good start, but nowhere near the US$400 billion estimate for beginning the restoration of Ukraine.
State assets are where the money is, but outright seizure risks undermining the rules-based international legal order that Canada and its allies seek to promote.
'Multilateral Asset Transfer'
Is there a case that seizing and repurposing Russian state assets can be done lawfully and can Canada, specifically, legally do so? The answer, in my view, is yes, but it requires satisfying two sets of standards: international law and Canadian law.
On the international law side, several colleagues and I recently wrote that repurposing Russia's state assets would be lawful under a system of what we call "Multilateral Asset Transfer," using the doctrine of "countermeasures."
The argument goes like this. Russia is currently in violation of one of the most sacred rules of international law: that the use of armed force by one state against another is prohibited. The obligation not to breach this rule has the status of erga omnes, meaning it's one that Russia owes not just to Ukraine but to every state in the world.
In situations where a state is breaching international law, affected states are allowed to employ countermeasures, which means they can break some other legal obligation owed to the breaching country for the limited purpose of making that state change its behaviour.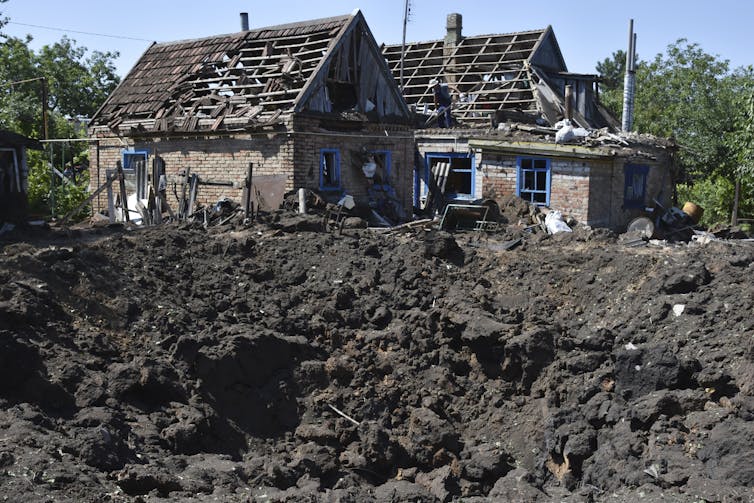 It is often referred to as a "self-help" remedy, and is similar to the familiar criminal law notion of self-defence — if you are assaulting me or my property, I am permitted to fight back to defend myself. In this instance, countries holding Russian state assets are entitled to suspend their usual obligation to keep these assets immune.
Now, even if states take these assets once they're no longer immune, the countermeasures are supposed to end once the original breach has stopped.
However, once the war is over, Russia will clearly have to pay legal reparations to Ukraine. The Multilateral Asset Transfer plan would see states transfer these seized Russian assets into escrow accounts until an international commission can be established to determine how much Russia will have to pay Ukraine.
The assets would then be transferred to this commission for disbursal to Ukraine and any excess returned to Russia.
Several pathways
Of course, for Canada to do this, the use of countermeasures would also have to comply with Canadian law. In a recent paper, my co-authors Allan Rock, Fen Hampson and I argued that there are several routes available.
The federal cabinet administers Canada's international legal actions under the Crown prerogative over foreign affairs. Cabinet can review the situation and declare that Canada is imposing countermeasures by suspending immunity over Russia's state assets.
Cabinet could further create an escrow account — perhaps call it a "Ukraine Trust Fund" — and order Canadian financial institutions to surrender Russian assets to it, making provisions for challenges by private individuals who claim their assets were mistakenly transferred.
Because of the Crown prerogative, none of this actually requires much in the way of legislation, although Canadian government culture is often allergic to doing much without it. More cautiously, the government's powers under SEMA could be amended as necessary to allow the above to take place.
The forfeiture route can be bypassed in favour of simple executive order, and countermeasures could be solidified via an amendment to SIA.
Another route would be to declare Russia a terrorist state under the Justice for Victims of Terrorism Act, which would end its immunity. But this move could cause difficulties, as recently demonstrated by Iran's initiation of a case against Canada in the International Court of Justice for precisely this kind of measure.
In any event, there is little doubt that all of this complies with Canada's Charter of Rights and Freedoms to the highly debatable extent it can be applied to the Russian government.
Regardless of the route, it is important that any Canadian effort to repurpose Russian assets is principled and lawful. In times when Russia's own conduct has imperilled international rule of law, this is the appropriate and necessary response.