Donald Trump has been formally charged with 34 felony counts of falsifying business records after an investigation into hush money payments to three people, including a porn star.
The former president of the United States pleaded not guilty to the charges.
The statement of facts compiled by prosecutors alleges Trump "repeatedly and fraudulently falsified New York business records to conceal criminal conduct that hid damaging information from the voting public during the 2016 presidential election."
It includes information about payments to adult film star Stephanie Clifford — better known as Stormy Daniels — Playboy model Karen McDougal and a former Trump Tower doorman who claimed Trump had a child out of wedlock with an ex-housekeeper.
Trump is facing a slew of other legal dangers, including potential prosecution for allegedly hiding classified government documents at his estate in Florida, trying to change the vote in Georgia following the 2020 presidential election and for encouraging the Jan. 6, 2021 insurrection.
But in the New York case, we already know that there was one payment made to Daniels because there's an audit trail of the payment being made by convicted felon Michael Cohen, the former Trump fixer and a key prosecution witness.
---


Read more:
How the indictment of Donald Trump is a 'strange and different' event for America, according to political scientists


---
For years, the payment — issued just before the 2016 presidential election — has raised legal and ethical questions about whether it violated federal campaign finance laws, either because it wasn't disclosed as a campaign contribution or because campaign funds might have been used to pay Daniels off.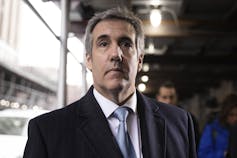 Cohen eventually pleaded guilty to campaign finance charges stemming from his involvement in the payments to Daniels and was sentenced to three years in prison.
But he isn't someone who seems altogether reliable given his past crimes. Trump's defence team is therefore undoubtedly going to do everything possible to discredit the disbarred ex-lawyer, ex-inmate and convicted perjurer.
Does that mean Trump has nothing to fear? Not exactly. So who should Trump fear, especially given the nature of the charges against him?
The accountants.
Follow the money
A dogged accountant brought down infamous gangster Al Capone in the 1920s and the 1970s-era Watergate scandal was largely uncovered by reporters who heeded advice to "follow the money."
How might accountants hold the key to Trump's fate on the charges he's facing in New York?
Let's start with a provable notion: The former president has a pattern of not paying his bills. In 2016, USA Today reported that Trump "has been involved in more than 3,500 lawsuits over the past three decades" pertaining to allegations of unpaid bills.
The newspaper documented the people who accused Trump and his businesses of failing to pay them for their work. They included a glass company in New Jersey, a carpet company, 48 waiters, dozens of bartenders and other hourly workers and real estate brokers who'd sold his properties.
Most critically, Trump allegedly stiffed "several law firms that once represented him in these suits and others," according to USA Today.
Furthermore, the newspaper reported that "the number of companies and others alleging he hasn't paid suggests that either his companies have a poor track record hiring workers and assessing contractors, or that Trump businesses renege on contracts … as is alleged in dozens of court cases."
Even to this day, many bills have allegedly still not been paid — and are continuing to pile up.
For example, some American cities allege Trump owes them nearly $2 million from rallies dating back to 2016. His Twitter rival, Truth Social, also reportedly stiffed a contractor in the latest sign of financial disarray at the troubled social network, according to Fox Business.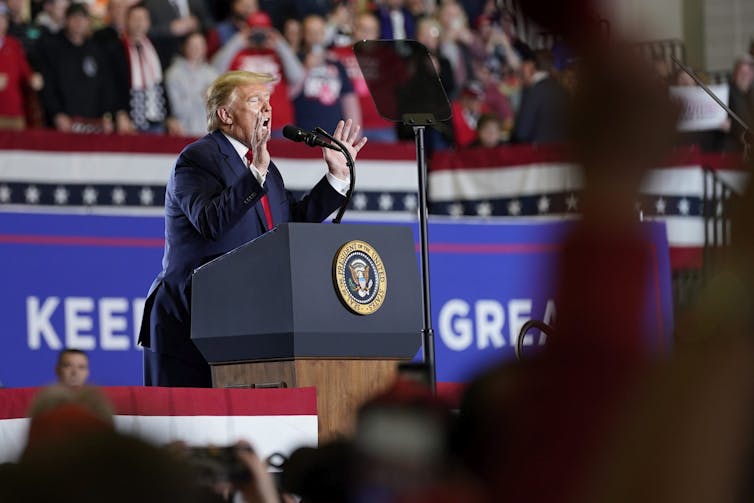 Trump's cheque to Cohen
Accountants could simply present this record to the court during Trump's New York trial and ask a simple question: If Trump constantly refuses to pay his bills and consistently stiffs people he does business with, why did he instantly whip off a cheque to Cohen for US$130,000 without so much as a request for an itemized bill?
In his first public remarks on the scandal in 2018, Trump denied any awareness of the payment to Daniels. Not long after that, he changed his story, acknowledging the $130,000 payout to Daniels, but said a non-disclosure agreement was "used to stop the false and extortionist accusations made by her about an affair."
Regardless of Trump's change of tune, the case against him isn't so much dependent upon Cohen's testimony about the purpose of the $130,000 payment — it's that Trump failed to ask for any documentation about it.
Cohen would have had to work a lot of hours to drum up $130,000 in billable fees. It stretches credibility that a man like Trump, whose dollars apparently must be figuratively pried from his hands, asked no questions, demanded no details, no breakdown and no documentation about a $130,000 bill and other pricey payments.
Forget Stormy Daniels. Forget Michael Cohen. Accountants will be raising this potentially damning question during the legal proceedings against Trump: Why would a $130,000 bill be so quickly and unquestionably paid and then reported only — and vaguely — as a lawyer's fee?