When Russia launched its full-scale invasion of Ukraine in February 2022, its expectations of a quick and decisive victory evaporated quickly as Ukrainian Territorial Defence Forces proved more capable and resilient than anticipated.
Within the first few weeks following the invasion, weapons, humanitarian assistance and even volunteer fighters from around the world began pouring into Ukraine to stave off the Russian advance.
The overwhelming majority of aid came from the United States and Europe. As the war nears its two-year mark, the U.S. and other countries have contributed more than a hundred billion dollars in military, financial and humanitarian assistance to Ukraine.
But in the early days of the conflict, this astonishing amount of support was not a foregone conclusion, compelling Ukrainians to step up efforts to generate financial support.
Ukrainians turned to crowdfunding
Since the annexation of Crimea in 2014, Ukrainians have capitalized on the ability to raise funds through new crowdfunding technologies.
Ad-hoc crowdsourcing efforts, initially intended as stop-gap measures to support an underfunded Ukrainian military, have since coalesced into major international fundraising campaigns — some of which have raised millions of dollars.
Many of these initial efforts were largely operated by charity and non-profit organizations to support under-equipped Ukrainian infantry and volunteer militias with a focus on small arms and personal protective equipment, including helmets and body armour.
Since 2014, the scope and demographic targets of crowdfunding efforts in Ukraine have expanded considerably. Tanks and fighter jets are now the goal, and crowdfunding campaigns are increasingly appealing to global citizens, not just Ukrainians.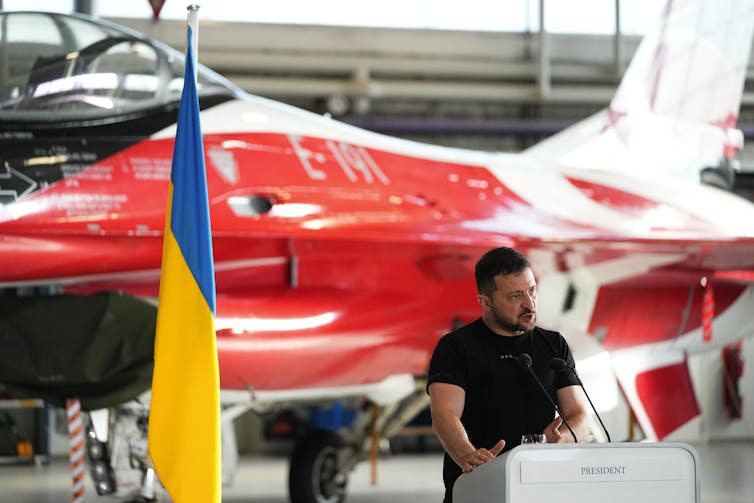 Winning a war 5 bucks at a time?
While the money raised from crowdfunding efforts is relatively small compared to state-to-state aid, the implications are far-reaching.
New online financial transaction platforms have essentially allowed citizens from around the world to contribute to the Ukrainian war effort, making the war more tangible and real for people who may be many thousands of miles away from the frontlines.
While donations to humanitarian causes are not new, what's unique about Ukrainian crowdfunding efforts is that they are both humanitarian and military in nature.
People from around the world can spend money both to help fund the purchase of ambulances to save wounded civilians and to help purchase ammunition and weapons systems, including automatic grenade launchers and heavy machine guns.
The crowdfunding landscape pertaining to the war in Ukraine is extremely diverse, but not well-documented. And not all crowdfunding efforts are Ukrainian in origin.
In October 2022, a Czech campaign raised enough money to purchase a T-72 tank for the Ukrainian army. Similarly, a Lithuanian crowdfunding campaign raised six million euros to purchase a TB2 drone.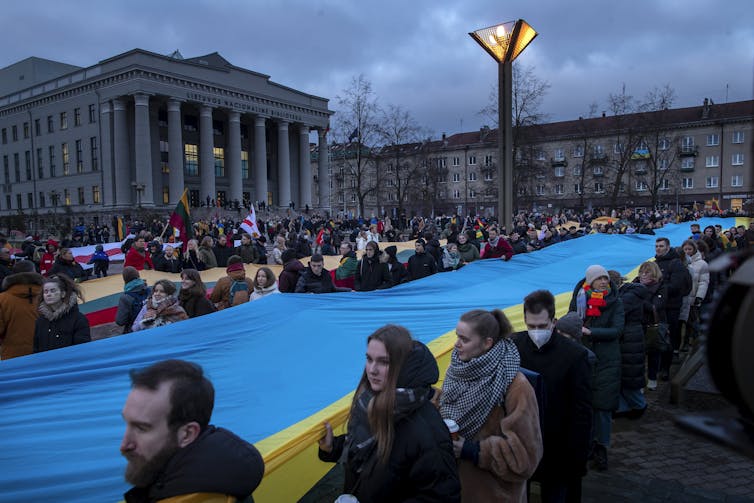 Trust, social capital, creativity
The crowdfunding efforts in Ukraine are also unique not just in their scope, but in their success. Two factors help explain those successes.
The first has to do with public trust and social capital. For a country that struggled with corruption in the aftermath of the Cold War, the international success of crowdfunding campaigns suggests a big shift in international and public perception of modern-day Ukraine.
The fact that crowdfunding campaigns have successfully raised millions of dollars suggests a high degree of trust in those who are donating. People aren't likely to donate money if they don't believe their donation will be used for its stated purpose.
This remarkable degree of trust has, in part, been facilitated by the presence of significant social capital inside, and outside, of Ukraine. Hollywood actors like Mark Hamill have become the face of many campaigns appealing to western demographics while activists and volunteers like Vitaliy Deynega, the founder of the Come Back Alive charity organization, have become fixtures in Ukraine.
Fundraising and donation platforms have essentially enabled people from around the world to help fund a war.
Secondly, the types of campaigns being employed are highly creative and diverse, capitalizing on popular culture and memes to build on anti-Russian sentiment.
Giving people the chance to help buy fighter jets, write messages on bombs aimed at Russian troops or buy pieces of scrap turned into keychains from downed Russian fighter jets personalizes the war for people who may be thousands of miles from the frontlines.
Democratizing war
Nonetheless, the participation of foreign nationals in funding war efforts highlights a number of important issues regarding how technologies shape our relationship to conflict. The potential ramifications are significant.
Once the tightly controlled domain of national governments, Ukrainians and foreign nationals can now directly help in the purchase of military equipment.
As these technologies become more ubiquitous and play a more prominent role, they will be increasingly difficult to manage and regulate.
There are concerns about fraud and corruption, too, especially amid the disinformation environment that is rampant on social media — the primary way that these campaigns are created and disseminated.
---
I would like to acknowledge the significant role that my research assistant, Kateryna Kuzmuk, had in collecting this data.