Ontario Premier Doug Ford has announced a reversal of his government's decision to allow developers to construct residential properties on parts of Ontario's Greenbelt. While this is a positive outcome for an ongoing saga, let's be clear: paving Ontario's Greenbelt was never actually about providing affordable housing.
Sure, there would have been houses where farms once stood, adding to the province's overall supply. While housing experts would agree that our housing supply needs to grow as our population grows, we also need to ask questions: What kind of housing do we need? For whom? And where?
Once we expand the housing debate beyond a need to build, it becomes clear that building on the Greenbelt is neither necessary, nor a solution.
More doesn't necessarily mean affordable
First, much of the housing that gets built on fringes of our urban regions is not in any way affordable. While suburban plot sizes are smaller than in the 1960s, houses have become bigger, meaning they are not cheap to buy, even in more modest developments.
But it's not just new subdivisions that get built when rural land is turned into houses. Beyond Brampton, towards Guelph and Waterloo Region, there are enormous mansions on multi-acre lots that most families would struggle to afford. These huge properties are becoming typical in expansion of the Greater Toronto Area.
Second, while some housing in the suburbs might be cheaper than downtown, the extra commuting costs of living far from jobs adds to a household's expenses and negates much of the cost-saving of buying a less expensive house further away. This kind of housing policy locks generations of Ontarians into costly car-dependency; it also costs the government more to maintain and expand highway infrastructure to meet this suburban growth.
Related to this, it costs much more for municipalities to service these new communities compared to housing built within existing urban areas. This is not just the initial costs of preparing and providing services (water, electricity, roads) to new subdivisions — annual operating costs to service sprawling neighbourhoods on the edges of cities is much higher than denser and more central neighbourhoods. Someone has to pay for these extra costs, either through higher property taxes or poorer services.
Fourth, there are many sites already zoned for new subdivisions. While some are being developed, others are simply being held by developers until the time is right to maximize their profits. In other words, there's already plenty of land, in places such as Caledon, where new population growth can be accommodated.
Finally, several studies have pointed out that there is more than enough room within the existing urban footprint to accommodate expected population growth. It requires denser, smarter and more creative approaches, but there is plenty of land to develop and redevelop within our cities. This removes the need to destroy precious farmland and other natural areas that are vital to our health, economy, food supply and well being.
Southern Ontario needs a lot more housing. But it needs genuinely affordable housing for low- moderate- and middle-income households. This housing supply rarely, if ever, gets built when farmland is lost.
Solving the housing crisis
Expanding our urban areas into the Greenbelt will not solve the housing crisis. So, what would a provincial policy that was genuinely focused on making housing more affordable look like?
To start, it would focus not just on adding new supply, but ensuring that existing housing remains affordable. Thousands of apartments that were affordable to low- and moderate-income households have been lost to processes such as renoviction and demoviction.
The most important aspect to help keep existing housing affordable is rent control. But one of Ford's first acts as premier was to abolish rent control on any new unit first occupied on or after Nov. 15, 2018. That means that tenants who live in the thousands of condo towers that have been popping up since then can be subject to whatever kind of rent increase their landlords want to charge.
Tenants who reside in buildings first occupied prior to this still enjoy some degree of rent control. But the previous Progressive Conservative government, under Mike Harris, also got rid of vacancy control, meaning that when a tenant leaves, landlords can raise the rent to whatever they like. This not only creates a huge incentive for landlords to evict sitting tenants, but has also led to an erosion of the housing supply that is affordable to tenants.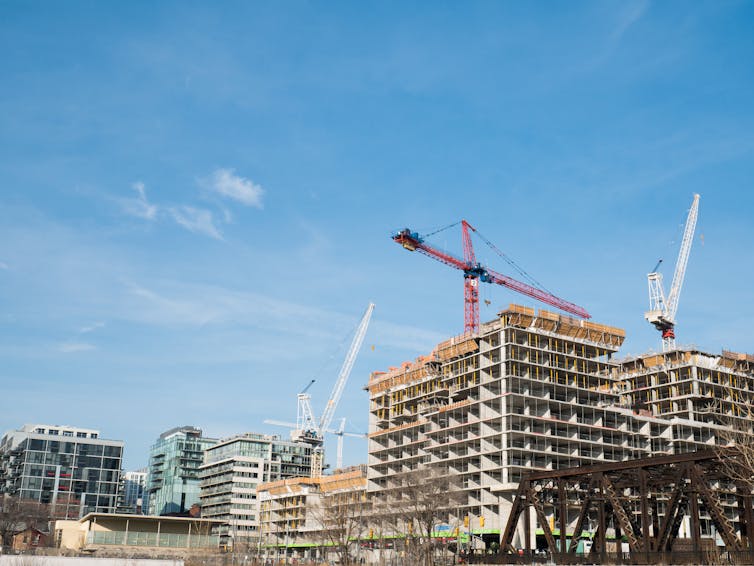 The role of policy
How can the provincial government help shape the kind of new supply that we need? The provincial government has taken some initiative to permit up to four units on residential plots of land previously zoned only for one single family home. However, the evidence is mixed as to whether this produces this kind of housing (at the appropriate price) that households need.
We need to think differently about the public land that is owned by everyone in Ontario. We used to build genuinely affordable housing on public land; the St. Lawrence neighbourhood in downtown Toronto remains the gold standard of how to build housing that meets the needs of communities.
Today, all levels of government, and many other public sector agencies, own land throughout the province. When this land is surplus, it is usually sold on the open market to the highest bidder. The Ontario Housing Affordability Task Force recommended that all future government land sales have a 20 per cent affordable housing requirement, although this was not taken up.
---


Read more:
Publicly owned land should be used for affordable housing, not sold to private developers


---
Instead, there have been several high profile sales of Ontario government land that have resulted in no affordable housing, including a parking lot at the Port Credit GO station in Mississauga, which was sold to a private developer for $64.5 million with no provisions for any affordable housing.
Land that Metrolinx has acquired for the Ontario Line will also be sold on the open market to the highest bidder, with no requirements for any affordable or non-market housing.
This land should be kept in public ownership to build the kind of housing that the market is unwilling or unable to build. Paving over the Greenbelt was never necessary to meet our need for affordable housing.
A housing policy based on Greenbelt expansion has rightly been tossed aside. Now it's time for the provincial government to step up and develop housing policies that will actually make a difference and get to the heart of why housing is so expensive. Fortunately, this isn't rocket science and many of the solutions already exist.