Private surgical clinics are one proposal to tackle surgical backlogs and wait lists.
But are they the right solution?
It's critical to consider the trade-offs when surgeries are moved out of non-profit facilities, like hospitals and community clinics, and into for-profit clinics.
Ontario's private eye surgery clinics are an interesting case. They were the first in the province to perform surgeries outside hospitals. Some have been around for decades, doing for-profit cosmetic and laser eye surgeries for people who pay directly for procedures. Most are owned by ophthalmologists.
The Ontario government has just approved contracts for three laser eye for-profit businesses to do cataract surgeries to be paid for by the province's public health insurance, known as OHIP. This raises important issues.
---


Read more:
Explainer: what are cataracts?


---
Unhealthy trade-offs
Surgeries in for-profit clinics cost the public system more than if the surgeries were performed in non-profit hospitals.
Ontario will pay clinics a flat facility fee of $605 per patient for a single-cataract surgery and $1,015 for a double-cataract surgery.
The facility fee is paid by the public system to cover overhead, such as technicians, technology, nurses, supplies and buildings, and is separate from surgeon fees. Any payment exceeding costs is retained as profit by the clinic.
The comparable overhead fee paid to non-profit hospitals is closer to $500 per patient. Hospitals don't make a profit, and their funding is allocated to meet patient needs.
One clinic has a contract for 5,000 cataract surgeries, yielding more than $3 million in facility fees plus more than $2 million in surgeon's billings. The facility fee from that single contract is at least $500,000 more than any non-profit hospital would receive.
How could that $500,000 be used for improvements to the health system instead?
Funds are desperately required to hire health-care workers. Maybe the money from that single contract could fund thousands of hours of home care with personal support workers or hire several full-time registered nurses to staff a hospital operating room.
Ontario could also invest more in primary-care teams to service the estimated two million residents without family doctors. It could open more medical school spots. It could encourage more residency spots for ophthalmology and fund more staff physician positions at teaching hospitals to do their training.
Eroding the public health system
If Ontario's three-step plan to contract out more for-profit surgical and diagnostic centres happens, significant public funds will be diverted towards profit. This will result in huge costs to the health system.
Contracting out these surgeries isn't about lack of space. The Ontario auditor general reported there are under-used surgical spaces in Ontario hospitals that require nursing staff to operate. This is a human resources challenge, not a space challenge.
Ontario only has three ophthalmologists for every 100,000 residents. That ratio is worsened when ophthalmologists work only partially in the public system and spend the rest of their time doing privately paid procedures like laser eye surgeries. Only 68 per cent of Ontario ophthalmologists perform cataract surgeries.
By way of contrast, in Nova Scotia — with five ophthalmologists for every 100,000 people — 75 per cent perform cataract surgeries, improving access for Nova Scotians.
Surgical backlogs for medically necessary surgeries, such as cataract removal, are also affected by laser eye and cosmetic surgeries. Every hour doing laser eye surgeries is an hour less for cataract surgery.
The province could regulate how often ophthalmologists perform optional procedures to prioritize medically necessary surgeries that save people's vision.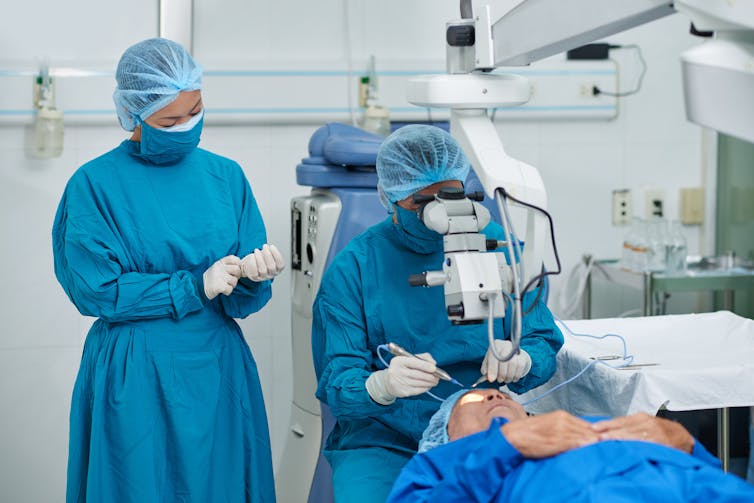 Balances needed for the public system
The Canadian Ophthalmological Society has advocated against profit as a main professional motivation. Allowing physicians to have a foot in both public and for-profit medicine causes surgical backlogs for everyone.
Ontario should require the profession to recommit to the public system — because the public system has committed to ophthalmologists. Like other trained physicians in Canada, ophthalmologists are significantly underwritten by public funds for part of their medical tuition, to fund the physicians who train them as residents, and for partial coverage of their medical liability protection insurance.
Cataract surgery is the most common surgery performed across Canada. Medically necessary cataract surgery is needs-based, unlike elective laser eye or cosmetic surgery, and demand is high. The wait lists grow because too few ophthalmologists are performing it.
Between 2011 and 2016, the number of surgeons performing cataract surgery in Ontario decreased by 44 per cent. The overall number of surgeries performed held steady after 2016, but demand has increased with an aging population and because of pandemic-related backlogs.
To improve wait lists and be transparent with public funds, there must be better accountability on the part of the profession.
Unlike other physician groups, ophthalmologists didn't participate in the federal Choosing Wisely campaign to designate unnecessary tests and procedures that are costly to the system.
Ophthalmologists earn more because of a mismatch between the time it takes to perform the surgery and the fee that's paid. While technology has greatly decreased the time required, the fee hasn't dropped proportionally.
Ophthalmologists bill OHIP $398 for each surgery. Some bill for dozens of patients per day, higher than in the past because surgeries are performed faster. Ophthalmologists are one third in the trinity of top-billing physicians in Ontario.
Regulations required
OHIP covers standard cataract lenses, but ophthalmologists can offer upgraded lenses to eliminate the need for glasses if patients pay additional fees.
These fees aren't publicized, and there's room for abuse, so Ontario needs government regulations to oversee any fees paid directly by patients.
Stories abound about packages billed to patients for lenses not received; about the upselling of lenses that may not actually benefit patients but play on their fears; and issues with dubious or fraudulent billing.
There are also ongoing investigations by the College of Physicians and Surgeons of Ontario. Twenty per cent of the top 20 ophthalmologist billers have reportedly recently had their licences restricted or suspended. Currently, the college reviews for-profit surgical clinics to maintain medical licences, but some have not been reviewed since 2016.
Ontario's Health Ministry should conduct a value-for-money audit that could stop the practice of costlier patients, and most of the time-intensive training, remaining in non-profit hospitals as for-profits pursue lower-cost patients. Well-trained personnel may also be attracted to for-profits, where they retain more of their billings.
Unchecked, these practices lead to higher costs for the public system and to some patients jumping queues for surgeries.
Ontario should also change how wait times are publicly reported. Patients could select their ophthalmologist and join a single wait list. Instead of publicly reporting wait lists by hospital, they should be publicly reported by ophthalmologist, including how many of their assigned cases are handled according to priority benchmarks.
These are just some of the innovations needed to bring balance to the system.