Only days before a government default, United States President Joe Biden and House Speaker Kevin McCarthy reached an agreement to raise the country's debt ceiling and avoid financial turmoil.
One important feature of this agreement is an expansion of the work requirements for recipients of Medicaid and food stamps. These new work conditions could affect millions of low-income Americans.
The expansion would limit childless able-bodied adults between 18 and 55 to only three months of assistance every three years unless they meet certain work-related criteria, like working at least 20 hours a week.
But while attaching work conditions to social assistance has been the norm for U.S. federal income assistance for a very long time, this hasn't always been the case.
U.S. work conditions for assistance
The U.S. War on Poverty provided the impetus for former president Richard Nixon to propose the Family Assistance Plan in 1969 to alleviate poverty and welfare dependence.
The plan involved a negative income tax that would have provided $500 per adult and $300 per child — regardless of work conditions — to families without other income.
Legislation was passed with bipartisan support in 1970, but encountered opposition in the Senate because of concerns about work disincentives and welfare dependency. These concerns could not be alleviated by preliminary evidence of an insignificant work response in the New Jersey Income Maintenance Experiment.
The Family Assistance Plan was eventually replaced with the Earned Income Tax Credit, which only provides assistance by topping up the earnings of low-income Americans. It effectively attaches work conditions to federal income assistance.
The Earned Income Credit has grown in popularity through successive U.S. administrations with enhanced benefits, expanded coverage and advanced regular payments.
As the major program of cash support for low-income families, it works in concert with the federal food stamps program administered by states according to requirements and funding.
It's therefore unsurprising that moves to tighten requirements for food stamps and Medicaid would rely on more stringent work conditions.
Canada's alternative approach
While work conditions have long been the norm for U.S. federal support programs, Canada has taken a different path. Even before Nixon's Family Assistance Plan, Canada had instituted the Guaranteed Income Supplement for seniors in 1967.
Like the Family Assistance Plan, it was designed as a negative income tax to supplement the Old Age Security benefits for low-income seniors.
The minister of national health and welfare at the time, Allan MacEachern, introduced the measure as a "simple, acceptable and effective" guaranteed income.
While work conditions were of little concern for the senior population, MacEachern noted the supplement could encourage work for those who sought it.
The supplement expanded over time and contributed to reducing seniors' poverty in Canada to rates that were among the lowest in the world.
The federal sales tax refundable credit followed in 1986. It remains modest, but has been boosted recently to assist low-income families in the inflationary aftermath of the pandemic.
More substantial is the refundable child tax credit, introduced as a modest benefit in 1978 but expanded to the modern Canada Child Benefit in 2016. It lifted a significant number of families with children out of poverty almost immediately.
The common thread in the construction of this federal income support network has been the absence of work conditions. An American-style earned income tax credit was introduced in 2008, but it remains modest.
Recent research exploring the potential expansion of this credit as a replacement for social assistance and most other existing tax credits showed that it would reduce poverty for families and working-age singles. However, it would have significantly less overall poverty impact than similarly priced guaranteed income models that don't have work conditions.
Are work conditions needed?
Work conditions have been at the heart of opposition to income support policies for a very long time. Concerns that a negative income tax would discourage recipients from working was front and centre in the design, conduct and analysis of guaranteed basic income experiments in the U.S. and Canada in the 1970s.
The experiments provided evidence of modest discouragement towards work, and subsequent basic income pilot projects and other similar studies have not changed this perspective. For example, there is no evidence of an adverse work response to the Canada Child Benefit.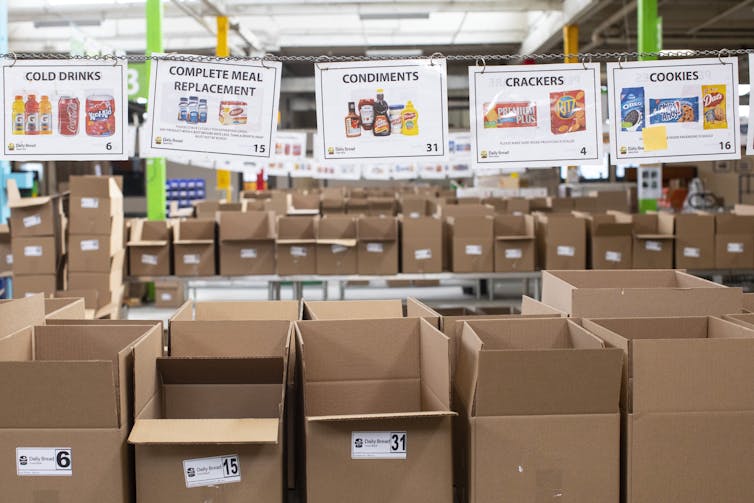 But despite this evidence, work conditions remain a sticking point for federal aid in the U.S. — not only among Republicans, but among swing-vote Democrats and the public at large. This suggests federal aid work conditions will remain in place in the U.S.
By their very nature, work conditions likely provide some encouragement to low-income families to find employment to qualify for benefits. The U.S. Earned Income Tax Credit slightly improves female labour force participation.
By design, however, federal programs with work conditions attached are unlikely to improve deep poverty.
Work conditions remain for welfare
The distinction between the U.S. and Canada's approaches don't extend beyond federal income assistance. Work conditions and other bureaucratic measures still dominate at the state and provincial level, despite significant federal funding support.
Temporary Assistance for Needy Families in the U.S. strengthened requirements for job searching and work-like activities, despite evidence that bureaucratic measures already in place reduced welfare participation.
In Canada, provinces still employ a complex bureaucratic machinery to receive claims, assess eligibility, deliver benefits, impose work conditions, police fraud and non-compliance, determine and recover over-payments, provide social services and report to authorities.
While there is little impetus to remove work conditions and other bureaucratic controls in the U.S., there is some movement to reduce barriers to welfare participation in Canada.
Most notably, the Prince Edward Island legislature has affirmed their support for a basic income to replace current welfare assistance in the province. This would separate receipt of welfare benefits from employment services and other work conditions imposed elsewhere.