Montréalers awoke on Feb. 16 to the news that a local businessman and lawyer was trying to buy the Montreal Gazette, the city's only anglophone daily newspaper.
No doubt many missed this news in the swirl of information at our fingertips, especially considering the Gazette is now a mere shadow of its former self.
The latest indignity the Gazette faced was a series of layoffs. Initially, 10-12 layoffs were expected, but the hit was scaled back to six after public pressure, leaving just 32 journalists and three managers covering a metropolitan area of four million.
This marks a tremendous change for the Gazette, whose well-known writers have included Order of Canada recipient Mordecai Richler. Its fame has even been enshrined in bronze, in the form of a statue of a man reading the newspaper that stands in one of the city's anglophone enclaves.
News industry challenges
The Gazette has suffered the familiar challenges of the news industry. It hasn't been locally owned since 1968 when it was bought by Southam. A list of chain owners followed: Hollinger acquired it in 1996, Canwest in 2000 and Postmedia in 2010.
In 2014, 100 people lost their jobs when printing was outsourced. But the real damage came after Chatham Asset Management, a New Jersey hedge fund, acquired a two-thirds stake in Postmedia in 2016. The New York Times reported that Postmedia cut 1,600 jobs across Canada in the first four years of Chatham's ownership.
As a society we have expressed concern about newspapers that have closed — 470 of them since 2008 in Canada, according to the Local News Research Project. But we are increasingly paying attention to the growth of "ghost newspapers" — publications that still exist, but whose newsgathering activities have shrivelled to almost nothing.
The Gazette is certainly not a ghost, producing lots of excellent local coverage every day, but it's undoubtedly trending ghostward. We also know life is worse in communities with less local news: local journalism increases voter turnout, reduces polarization and saves communities money.
Mitch Garber's offer
This brings us back to the businessperson who offered to purchase the Gazette in February, Mitch Garber. He is an investor and a minority owner of the Seattle Kraken NHL team.
When news of the recent layoffs broke, the Gazette staffers reached out to him for help. In a series of since-deleted tweets on Feb. 15, Garber declared he would consider buying the newspaper.
"I never really wanted to own a newspaper," he told CJAD radio. "Do I have a plan? No. But I want to do what I can to help," he told The Rover. "I am a capitalist, I believe in smart investments and I know that investing in the print news business isn't a big money-making investment. But some things are more important than money and I think this city needs an English language daily."
Postmedia CEO Andrew MacLeod dismissed the offer, noting that sharing printing, distribution and stories across newspapers makes it hard to remove one of them.
It's worth taking Garber's suggestion seriously, even if not in the short term. Chain ownership might lower costs. If the purpose of a newspaper is to build up local democracy, it's important to consider what the true cost of these savings is, and whether they outweigh the tremendous shrinkage of the newsroom. I know what my answer is.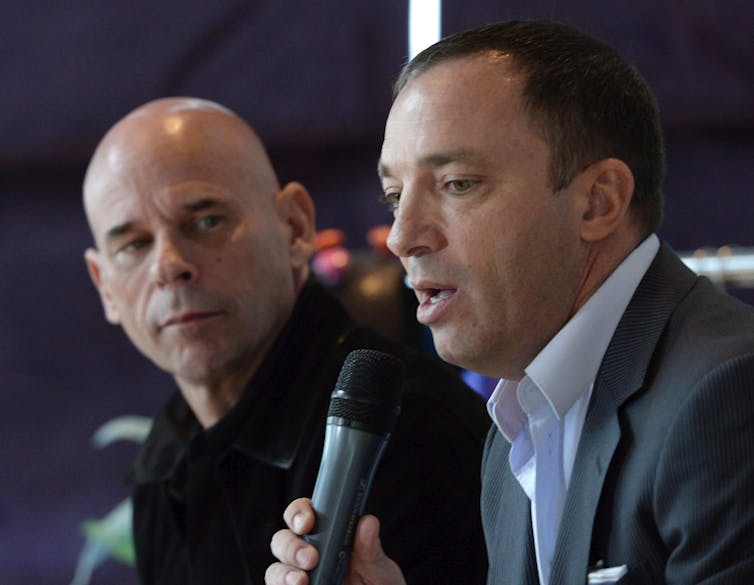 Although Garber has invested in a range of industries, he appears to have no background in media. "Some things are more important than money," is a promising statement, and anyone who is willing to put their own money on the line to save a community asset has my attention.
But individual owners can be capricious. While local ownership, no matter its structure, brings a level of accountability to the news business, it is worth taking a moment to think about how to actually build a more responsible, community-focused news source.
Are non-profits the future?
The Gazette's local competition offers examples worth examining. La Presse, a French-language, online-only publication became a non-profit in 2018, meaning all profits generated are put back into the editorial process.
La Presse's owners left $50 million in its accounts before the conversion and its circulation has been rising.
Le Devoir, a French-language newspaper published in Montréal, has been owned by a non-profit trust for over 100 years.
Joseph Atkinson left the Toronto Star to a charitable trust in 1948, a move that was overturned by government legislation, but whose charitable spirit was preserved through the trustees who owned it until recently.
And reaching further back, revenue from the operations and eventual sale of the Toronto Telegram helped support Sick Children's Hospital. (Today, of course, it's newspapers that are the charity case.)
South of the border also has plenty of interesting examples. One of the oldest examples is the Tampa Tribune, left to a trust by its owner.
H.F. Lenfest, a prominent businessman and benefactor, created a non-profit to house The Philadelphia Inquirer in 2016 to ensure the newspaper would remain locally owned. Lenfest also created the Lenfest Institute for Journalism that same year to fund local journalism.
This non-profit has contributed to what is one of the most vibrant news ecosystems in the United States, a goal that all newspapers should strive for. Anyone talking about bringing a chain newspaper local would do well to examine the history of The Philadelphia Inquirer.
News media sustainability
Postmedia is perhaps doing us all a service by putting the brakes on Garber's offer. The chain has put together an advisory council to work on promoting the sustainability of the newspaper.
While a little late, this might be a move in the right direction for what should be a community-focused organization. If we're serious about it, Montréalers would do well to put together our own process to figure out what we want and need from the Gazette. Perhaps this could even lead to a standing community advisory board, a check that a new owner would do well to encourage and listen to.
In any case, we can expect little from Postmedia, especially while Chatham Asset Management is involved. Local ownership seems worth a try. Garber seems like a good candidate, and he would do well to read up on what's worked elsewhere so that he can ensure the Gazette remains an important local asset.